Are Milwaukee Bucks Better Without Giannis Antetokounmpo? Skip Bayless Presents an Unpopular Opinion
Published 07/02/2021, 3:52 PM EDT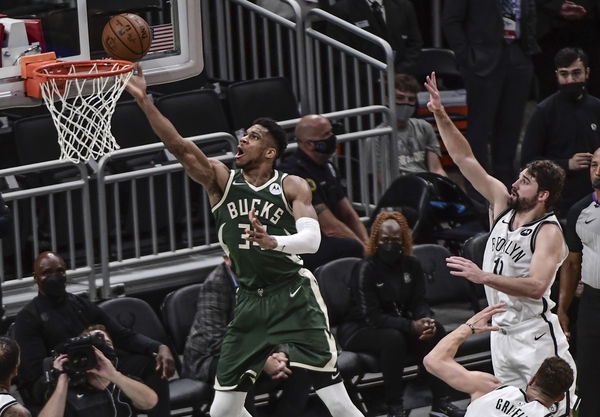 The Milwaukee Bucks lock horns against the Atlanta Hawks in ongoing Eastern Conference Finals. This season, the Bucks have been fantastic. Beating the Miami Heat and the Brooklyn Nets in the first two rounds, Milwaukee only have a single hurdle in the Atlanta Hawks to reach the Finals this season.
After winning game 2 and 3, the Bucks suffered from a disappointing loss against the Hawks. What made matters worse for the Bucks was the injury to talisman Giannis Antetokounmpo.
ADVERTISEMENT
Article continues below this ad
Playing game 5 without Giannis, the Bucks knew they had to put on an all-around performance if they wanted to take a commanding lead in the series. Milwaukee just did that as big men Brook Lopez and Bobby Portis combined for 55 points.
All-Star guards, Jrue Holiday and Khris Middleton also had good games as they took control of the offense and added 51 points to the scoreboard. The Bucks eventually won the game 123-112 and eventually took a 3-2 lead in the series.
Skip Bayless claims Milwaukee Bucks better off without Giannis Antetokounmpo
Given Milwaukee's recent performance, analyst Skip Bayless had a rather wild claim to say the least. In a recent appearance at the Undisputed, the veteran analyst claimed that the Bucks were indeed better off without Giannis.
"Are you sure that the Milwaukee Bucks aren't a little better all around basketball team, playoff basketball team without Giannis? I have never been the biggest Giannis fan I've been staunch in my opinion about this from day one."
Bayless also explained how Antetokounmpo's streaky shooting affects the Bucks and how he becomes a liability to the team. "When when you shoot air balls in big playoff games, it takes the heart out of your team your team loses faith and trust in the best player by far on the floor."
ADVERTISEMENT
Article continues below this ad
The veteran analyst was also full of praises for the Bucks starting five in game 5. "Yeah, so basketball is a five man game. And last night they played five man basketball….. They won by 11 because they just look like the better, stronger, more physical, more dominant in the paint basketball team."
While Bayless does raise some serious concerns on Giannis' game, there is no denying the 2-time MVP brings to the table. With his ability to drive to the basket at will and his ability to pass the ball, the Bucks' shooters have much better looks at the basket.
ADVERTISEMENT
Article continues below this ad
The 'Greek Freak' also is a much needed defensive anchor to the team and makes the team better overall. He might not shoot the ball as some of the other superstars, but given the overall quality he brings on the court, there is no denying that the 'Greek Freak' is a must in any team he plays for.