"Arrest This Man Please": Millionaire Philanthropist Shaquille O'Neal Once Shut Down Donald Trump Inspiration Question With a Cold Answer
Published 10/02/2022, 4:30 PM EDT Shaquille O'Neal has always been vocal about his opinions. 'The Big Aristotle' has always maintained the 'no-nonsense' image and has never shied away from saying exactly what he felt. Time and again, Shaq has given his opinion on matters of politics whenever needed. During the Presidential elections, when citizens were demanding a recount, Shaq had stated that Trump had won 'fair and square'. He urged people to give him a chance to make the world a better place and live up to his promises.
ADVERTISEMENT
Article continues below this ad
From his answers, Shaq has remained unbiased as a person and prefers to base his judgment on people's actions. Moreover, Shaq had reportedly called out Trump for his poor way of handling the situation during the George Floyd case.
ADVERTISEMENT
Article continues below this ad
Furthermore, he had once confessed that he had never voted before the 2020 elections. Shaq told USA TODAY Sports that he couldn't make time before but fortunately took out time for the Presidential election on Nov. 3, 2020.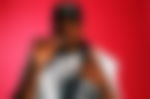 "I don't have any excuses, but I didn't have time. That's a bad excuse. My mom was disappointed. Uncle Jerome was disappointed. But this year, I made time." said Shaq.
When a reporter from TMZ Sports asked Shaq if his initiative to do good for the underprivileged is inspired by Trump, Shaq simply shut the question by giving a different response.
Shaquille O'Neal gives a clever answer to a question related to Trump
In 2017, TMZ Sports caught up with former Los Angeles Lakers star Shaquille O'Neal to ask him about his philanthropic work. The reporter stated that Shaq had done a lot of social work for the country and the neighborhoods. He asked the $400 million worth NBA legend if Donald Trump had inspired him to run for office.
ADVERTISEMENT
Article continues below this ad
"Arrest this man please," said Shaq jokingly to police personnel.
Furthermore, the reporter asked Shaq if he plans to act as a mediator for Michael Jordan and Charles Barkley. In response, Shaq simply said that he wouldn't. Former friends MJ and Barkley have been in the cross-hairs for a long time. Their relationship worsened when NBA Analyst, Barkley questioned MJ's position as the owner of the Charlotte Hornets. Since then, the duo has been indistinctly passing remarks on one another and their relationship seems to have been broken beyond repair.
ADVERTISEMENT
Article continues below this ad
WATCH THIS STORY: Kim Kardashian, Joe Biden, and Other Public Figures Who Have Come in Support of WNBA Star Brittney Griner 
Do you think the feud between Barkley and Jordan will ever end? Let us know your thoughts in the comments below!