As Floyd Mayweather and Pete Davidson Watched in Awe, NBA World Hyped Over 'Jordan-Esque' Display From Ja Morant vs Knicks
Published 11/27/2022, 11:37 PM EST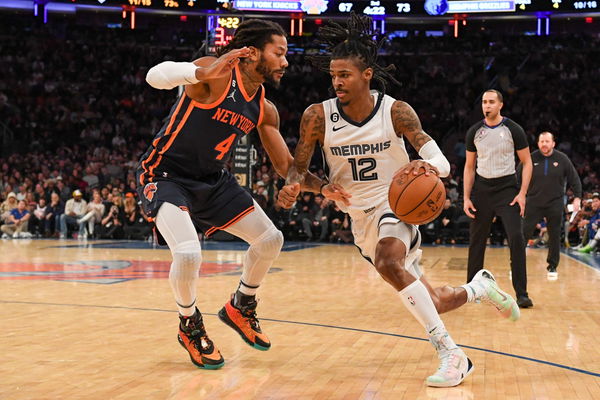 The Memphis Grizzlies torched the New York Knicks on Sunday night in Madison Square Garden. Ja Morant was undoubtedly the key player in the win for the Grizzlies. However, in the presence of Floyd Mayweather and Pete Davidson, Morant gave the NBA world a moment that reminded them of the legendary Michael Jordan.
Ja Morant made an outrageous play during the third quarter of the game between the Grizzlies and the Knicks. Morant received the ball from John Konchar and then dribbled past Immanuel Quickley. Ahead of him, Isaiah Hartenstein and Derrick Rose jumped to block Morant, but he reversed and scored the point. What's more, he earned a foul and gave the team a three-point chance.
ADVERTISEMENT
Article continues below this ad
Not only the audience, but the players on the beach raised up to celebrate the 'Jordan-Esque' moment. And it didn't take long for the clip to go viral on the internet. And the NBA world seems to be hyped up over this highlight of the game, as many believe that they don't get to see such plays every day.
Here are some of the reactions from NBA Twitter:
It's fun to watch someone so athletic say to themselves "idk I'll just jump and figure it out in the air"

— Rorschach Cousins (@rellim_nodnarb) November 28, 2022
a normal reverse layup. very highlight worthy of course. not like everyone In the nba can do that

— foxsabonis (@foxsabonis) November 28, 2022
Ja Morant shines once again
ADVERTISEMENT
Article continues below this ad
The Memphis Grizzlies defeated the New York Knicks by 4 points. The final score was 127-123. And Ja Morant was the star player of the night, dropping 27 points, 10 rebounds, and 14 assists during his 35 minutes of action. He presented the audience with a powerful all-round performance. Talking about the audience, Floyd Mayweather and Pete Davidson were seen enjoying the game. And watching Morant's wild plays must have left them speechless.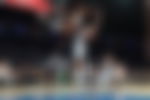 Dillon Brooks gave another remarkable performance on the night, scoring 23 points for the team. With this win, the Grizzlies are on a two-game winning streak and, with a percentile of .600, they occupy the third position on the Eastern Conference points table. On the other hand, the Knicks are in the 11th spot, and talking about tonight's game, Jalen Brunson dropped 30 points, the highest of the night. But it was not enough to take the team over the line.
ADVERTISEMENT
Article continues below this ad
WATCH THIS STORY: Latest video shows Snoop Dogg making 6'2 Stephen Curry look small
What was your reaction to Ja Morant's outrageous play? Do tell us in the comments section below.