'ATL Came to Play': Ja Morant, Jamal Murray & Others React to Atlanta Hawks Upset Win vs Milwaukee Bucks in Game 4
Published 06/29/2021, 11:07 PM EDT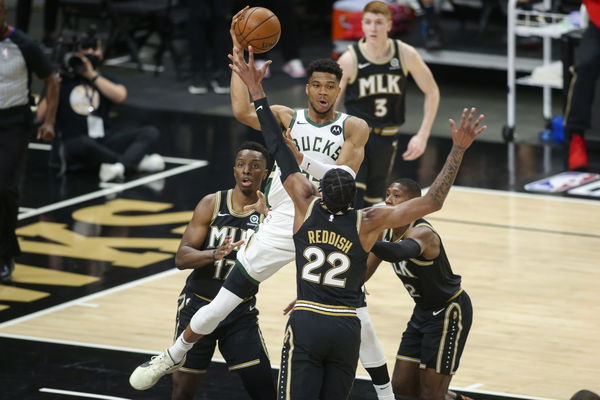 ---
---
The Atlanta Hawks entered Game 4 of the Western Conference Finals against the Milwaukee Bucks in desperate need of a win. They were trailing 2-1 in the series and losing the fourth game would have given the Bucks a comfortable lead that would have become close to impossible to recover from. However, the Hawks' sense of urgency worked wonders for them and helped them tie the series with a 110-88 victory.
ADVERTISEMENT
Article continues below this ad
Did the Milwaukee Bucks lose Giannis and the game?
The Atlanta Hawks started the game all guns blazing, trying to make up for their best player being benched. Trae Young, who got injured in the previous game, was ruled out for this one. This had Hawks fans extremely worried because he is the only barrier stopping the Bucks from thrashing the Hawks.
ADVERTISEMENT
Article continues below this ad
But it seems Trae's replacement in their starting lineup, Lou Williams did justice to the responsibility given to him. He looked fearless on the court and helped Atlanta secure a 51-38 lead by the first half itself. He had 13 points, 4 rebounds on 4-4 from the field by then. This was the highest score counting the Bucks' scores as well, despite Milwaukee being one of the best offensive teams this season.
Both Giannis Antetokounmpo and Khris Middleton started off slowly and worked their way back in the third quarter. They reduced the deficit to 10 points but a double-digit lead was still not what they wanted. And then came the heartbreak for Milwaukee fans, when a clash during an alley-oop brought Giannis down grabbing his knee and ended with him being sidelined.
He looked like he was in immense pain but him walking after it was a sign of relief. But after this, all hope was lost, and rightly so. Bogdan Bogdanovic, along with Lou, was fired up to get this win without Trae and that's exactly what they did. They finished the night with 20 and 21 points respectively, giving the Hawks what they needed at a crucial time.
Mannnn ATL came to play today!!!!

— Langston Galloway (@LangGalloway10) June 30, 2021
Yeah capela from behind the back board this game over..🤣

— Jamal Murray (@BeMore27) June 30, 2021
yeah atlanta winning after dat 😂

— Ja Morant (@JaMorant) June 30, 2021
Bucks can't relax because Trae is out. Lou Will can win you a game.

— Draymond Green (@Money23Green) June 30, 2021
Lou is a bucket! But the plays he's making for his guys is even more impressive .

— 🏁 Jamal Crawford (@JCrossover) June 30, 2021
Good to see Cam back on the court

— Anfernee Simons (@AnferneeSimons) June 30, 2021
Kobe, Capela… same same

— Festus Ezeli (@FestusEzeli) June 30, 2021
READ MORE: Giannis Antetokounmpo Is Having a Dominant Playoff Run Like Shaquille O'Neal. So Why Are Fans Still Complaining About His Shooting?
No Trae Young, no problem for the Atlanta Hawks
The Hawks' night started off rough when their messiah Trae Young was ruled out of the vital game because of a bone bruise. He suffered the injury in his right foot in the final minutes of the third quarter in Game 3.
While standing near the sideline, Young was trying to pass which was intercepted by Jrue Holiday. In the midst of trying to run back to defense, Young stepped on the referee's foot and sprained his ankle. He was seen sitting down on the court and was eventually taken back to the locker room for medical attention. Although he returned to play, Young did not look the same and even complained of pain after it was over.
As per Adrian Wojnarowski, Trae tried his best to make his presence known in Game 4. But "severe lack of mobility and a significant degree of pain made it impossible".
ADVERTISEMENT
Article continues below this ad
Reporting with @Malika_Andrews: Hawks star Trae Young is out for Game 4 vs. Bucks with a deep bone bruise in his right foot. Young exhausted every avenue to try and find a way to return to play, but a severe lack of mobility and significant degree of pain made it impossible.

— Adrian Wojnarowski (@wojespn) June 29, 2021
This could be worrisome for the Hawks. But with Giannis's injury as well now, both teams might be missing their cornerstones. How will this series play out further? Stay tuned to find out.
ADVERTISEMENT
Article continues below this ad
WATCH THIS STORY: LeBron James vs Kevin Durant Duel in The 2017 NBA Finals: Golden State Warriors vs Cleveland Cavaliers