Author Reveals How Kevin Durant & Kyrie Irving Ignored COVID Protocol to Secretly Practice at Kobe Bryant's Old Gym
Published 07/05/2021, 12:00 AM EDT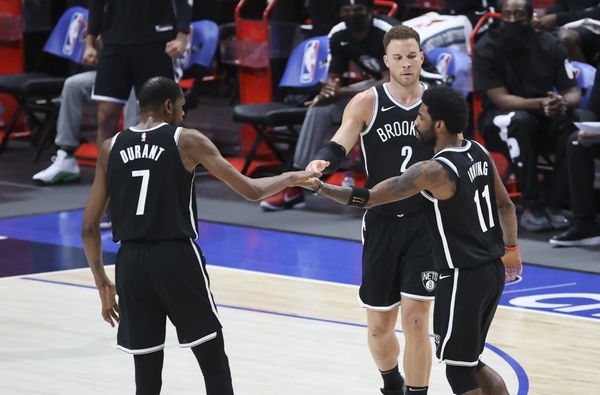 ---
---
In 2020, Sean Marks left no stones unturned to ensure the Brooklyn Nets boasted the most dangerous roster in the NBA. He appointed Steve Nash amidst all the criticism and then formed a superteam to back Kevin Durant & Kyrie Irving. Those were simply the boss moves.
ADVERTISEMENT
Article continues below this ad
Surprisingly, after a reasonable regular season, the Nets perished in the playoffs, mostly because of injuries. However, the season established the franchise's desperation to win a championship with a 'whatever it takes' attitude. Recently, a revelation on the same lines further proved the Nets will do everything to win.
ADVERTISEMENT
Article continues below this ad
Matt Sullivan with a huge disclosure about Brooklyn Nets
One must remember how Kevin Durant (Achilles injury) missed the 2019-20 season in its entirety and Kyrie Irving played only 20 games. So prior to the 2020-21 season, the duo, along with the franchise, was keen on making a huge comeback. To ensure they're on top of their chemistry, the team organized practice sessions during the ongoing pandemic. 
In a recent interview, famous author and league insider Matt Sullivan revealed such facts. He stated, "There's a lot of things that the Nets do in that culture. There's a reason why they have this Kremlin-esque wall around everything they do. During the middle of Covid, they were working out half the team. Well really, Kyrie, KD, and their friends on the team at Kobe's old gym in California. You weren't allowed to do that during Covid. You had all these strict protocols, one coach, masks. But they were running, like, a secret camp all the time trying to get KD and Kyrie in shape…"
Now, it's unknown if the team had special permission to proceed, but it's sure that they were bent on sweating and improving.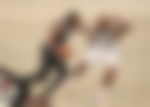 When James Harden joined Kevin Durant & Kyrie Irving at practice
During the off-season 2020, a lot of ruckus was going on around the Rockets and James Harden. The Beard wanted to pull out of the team and the Nets were keenly tracing every update.
Just as Matt further added, "articulating who they want on this team… Watching all these young guns in the bubble and basically letting them lose and figuring who they want to keep on the superteam. All this while Kyrie's painting and saging and tweeting, Instagram posting manifestos… from his car outside Kobe's gym… including James Harden who ended up in that gym too while they formed this team on Election Day, while Chris Paul was also around."
ADVERTISEMENT
Article continues below this ad
So even before the world knew, the 3x scoring leader was working out with his future teammates. No wonder why his chemistry with Ky was so formidable from Day 1. 
So which part of the revelation shocked you the most? Was it the Nets pulling a secret training, was it them recruiting Harden, or was it them not picking CP3? Help us know in the comments below.
ADVERTISEMENT
Article continues below this ad
Watch this story – Hidden Meaning Behind Kevin Durant and Others' Jersey Numbers