'Awkward but Motivating': Steph Curry Sets His Sight on Ray Allen's All Time 3 Pointer NBA Record
Published 04/23/2021, 12:59 PM EDT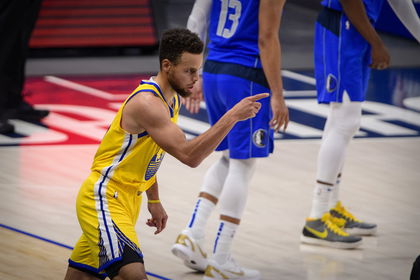 ---
---
Steph Curry is absolutely balling right now. If not for Curry's offensive prowess, the Warriors but not have even seen themselves in the play-in contention. While the 33-year-old has a varied offensive arsenal, it is his lights out shooting that has stood out ever since his debut.
ADVERTISEMENT
Article continues below this ad
With his impeccable shooting, Steph has proven to be one of the biggest threats from the perimeter. Since his debut in the league in 2009, Curry has shown that a team centered around a shooter can indeed excel in the league.
Steph Curry speaks about being the best shooter ever
ADVERTISEMENT
Article continues below this ad
With his incredible shooting over the years, Curry has proven to be a problem for other defenses. His profound impact on the game has prompted a rapid increase in shooting, which makes him arguably the best shooter the league has ever seen.
In a recent appearance at the Rex Chapman show, Curry spoke about the same. The 7-time All-Star said, "Being in the moment is the weirdest, most awkward part of it.
"Because I've always thought about Reggie and Ray Allen as the ultimate tier of shooting and not just with their records, three point record that Ray still holds or, you know, I passed Reggie this year.
"So that was an amazing accomplishment. But you know the longevity of doing that for, you know, 14, 16, 18 years. And something that is awkward to talk about, but also inspiring, because I want to get to that point. So like maybe, hopefully pass Ray next year."
ADVERTISEMENT
Article continues below this ad
He added, "To know that you're trying to create a new wave of how it's done and a new level and stretch you know that creativity in that range to a whole another level knowing that the next generation is looking at me like I looked at those two guys, it's pretty special. So it's awkward but motivating all at the same time."
Over the years Steph has broken numerous shooting records. Be it the most number of threes in a season with 402, to even shooting at one of the highest percentages in the league, Curry has done it all. But only a single record has eluded him, the most threes ever scored in a career held by Ray Allen.
ADVERTISEMENT
Article continues below this ad
Do you think Steph can eclipse Allen by the end of the 2021-22 season?