'Bad Advice in His Corner': Shaquille O'Neal Blames Ben Simmons for His Sticky Situation With 76ers
Published 10/06/2021, 9:30 AM EDT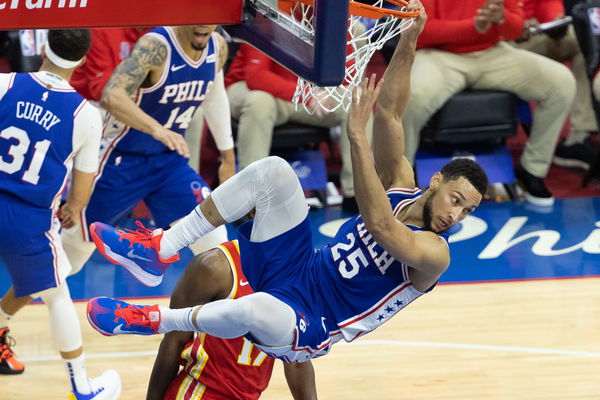 ---
---
The Ben Simmons and Philadelphia 76ers fiasco is now the topic of conversation on almost every podcast, every interview, and every debate. With Simmons still absent from preseason because of his threat to sit out all season if he isn't traded, and the 76ers not caving in to his demands, things do not look any closer to resolution. Neither side is willing to budge. Shaquille O'Neal, the NBA legend, doesn't understand why Simmons is behaving the way he is.
ADVERTISEMENT
Article continues below this ad
Shaquille O'Neal has more thoughts on Ben Simmons' actions
ADVERTISEMENT
Article continues below this ad
Ben Simmons has gone rogue. Not showing up for training camp, unwilling to talk to teammates, and clearly not worried about the consequences, Ben is sticking to his guns. However, Shaquille O'Neal thinks that he does not have much of a right to do this. On the 'Crossover' Podcast, he said, "I don't know why he is upset."
"There's bashing and there are facts. Everything everybody's been saying is just facts. Especially with the amount of money you're making, 200 million. You're a superstar. In playoffs, you have to step up. In Philly, they're used to Iverson, Dr. J, Barkley. They expect you to step up. The whole world saw the man terrified to play in the fourth quarter, in crunch time."
Shaq brought up the moment Ben was criticized most for last season, missing out on the most obvious dunk. And despite him making mistakes, Simmons is acting up. And as per Shaq, it's because the point guard has "bad advice in his corner." He explains that during his playing days, he always had people around to call him out for his shortcomings.
WATCH THIS STORY: Michael Jordan's Awful 2011–12 Charlotte Bobcats, 2015–16 Philadelphia 76ers' the Process, and Other Teams That Are Among the Worst in NBA History
Shaq directs question towards 76ers' Point Guard
ADVERTISEMENT
Article continues below this ad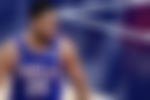 Shaq is best known for his ability to not sugarcoat anything. So, he even blatantly asked, "Okay, you want to be traded. Who's going to take you? Nobody is giving up pieces for a guy who doesn't want to shoot in the fourth quarter."
Watch This Story
He makes it clear that even if he was in Philly's place, he would react just this way. Unless an elite team like them gets a good enough deal, they can't, and in fact, shouldn't trade Simmons.
ADVERTISEMENT
Article continues below this ad
Looks like Shaq has picked his side in this separation. But the jury is still out on what will come to be of this messy relationship. Will Simmons realize he has no way out, at least not through these silly antics? Or will the Philadelphia 76ers get the deal they have been waiting for to ship him off?