'Bad for Young Kids': Former NBA Champion Reveals Why He Coaches Against Settling for Threes
Published 03/18/2021, 12:00 AM EDT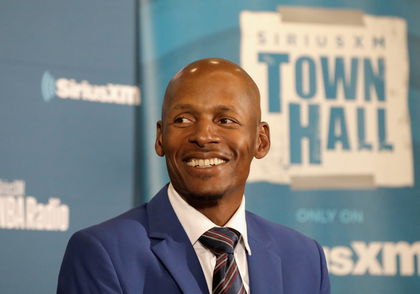 ---
---
The world isn't all sunshine and rainbows, just as the NBA isn't all three-pointers and dunks. However, today, more than ever, the hoopsters rely on long-range shooting, and the trend is only going upwards. The skill that went mainstream because of flashy players like Ray Allen is now witnessing an overuse.
ADVERTISEMENT
Article continues below this ad
The catch here is that the king of threes, Ray himself, is averse to relying excessively on three-pointers. The debate is that these long-range shots are taking the sheen away from the game. So, what makes this an important consideration?
Is the NBA losing its watchability?
ADVERTISEMENT
Article continues below this ad
In an interview, the 2-time NBA Champion with Celtics and Heat cited the example of Kawhi Leonard's 2019 team to explain how many dynamics of the game are fading away.
The legendary player expressed, "There is a lack of appeal to it right now watching because there's so many different dynamics to the game that are being lost. I said this a couple of days ago on my Instagram feed, is that the mid-range game is being lost. You look at Toronto a couple years ago, they won the championship. They had some great three-point shooters, but you saw them pump fake, get into the paint, shoot the mid-range shot. You can't always go to the basket because you have a big guy waiting on you, but you've seen them stop mid-way and take a pop shot."
Sugar Ray is the all-time three-point leader in the NBA and remained just 27 such conversions short of touching the 3000 mark. Chasing him is Warriors' Stephen Curry, who will most likely overtake Allen, given his superhuman abilities.
But the problem is not that a few players are utilizing this approach, the issue is with 50+ NBA players making six or more attempts per game, showing how the mindset is to gain easy points without getting into the restricted area.
Read Also – American TV Host Gives Solution to Excessive 3-Point Shooting that Only Steph Curry & Other Greats Might Sustain
Ray Allen warned the upcoming generation against three-point shooting
A true promoter of the sport, Ray, has used those three-pointers to win many clutch games in his 17-year career. In his prime, the 6'5" shooting guard attempted 7.7 such shots and converted north of 43% to build a legacy.
ADVERTISEMENT
Article continues below this ad
Still, he is not a promoter of such a playing style, because he believes that the true game of basketball demands something else.
Just as he further explained, "Nowadays, you're seeing guys pump fake, they can step sideways on the three-point line and you're making it a tougher shot than necessarily getting into the paint and getting something mid-range, so I believe it's bad for the young kids, that watch because what I tell my boys, I'm coaching AU team currently, and I tell them, I want you guys to pay attention to what goes on in college, play hard, learn from the NBA the do's and the don'ts, but don't settle for threes. I hated shooting threes to start a game because you wanna kinda build your rhythm into it. Get to the free-throw line, make some layups, then the best time to shoot a three-pointer is an offensive rebound. I like to see the bigs have more of a footing back in the game."
ADVERTISEMENT
Article continues below this ad
Now, there is another ongoing debate around either restricting the number of attempts or pushing the three-point line back. Should the league take one such decision to curtail the issue?