'Best Player on the Planet': Twitter Reacts to Ricky Rubio & Kevin Durant's Intense Face-off During Team USA's Win vs Spain in Tokyo Olympics
Published 08/03/2021, 3:15 AM EDT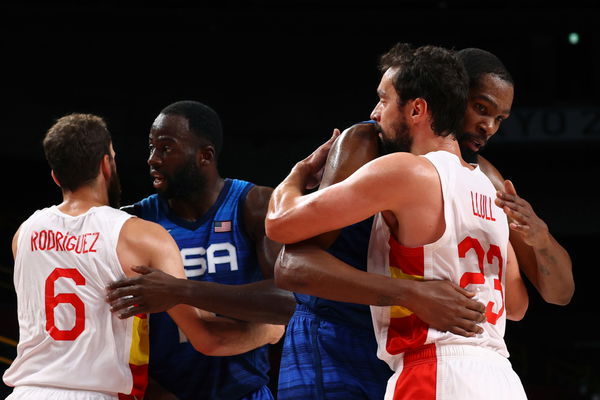 ---
---
Team USA and Spain facing each other in the quarterfinals was a rather surprising matchup. Both these teams were the most capable of grabbing the gold medal at the Tokyo Olympics, but their face-off had to end with one of them being knocked out way before what they intended to achieve and empty-handed, without the gold. And unfortunately, it was the Spaniards who suffered this disappointing fate and the USA's 95-81 victory got them one step closer to their fourth-consecutive gold medal.
ADVERTISEMENT
Article continues below this ad
Team USA for the win
When faced with one another in the exhibition games, warming up for the Olympics, USA had won the game by 83-76 then too. Thankfully, they were able to replicate that performance in this game. While Spain's men's basketball team must be packing their bags, losing to their rivals once again, the USA is ascending to the semifinals.
ADVERTISEMENT
Article continues below this ad
This is not the same team USA we saw that dropped games against Nigeria, Australia, and France. They finally looked like the team that had three straight gold's in this competition after demolishing Iran and the Czech Republic. But everyone knew facing Spain would be way different than any other matchup.
Spain is the No. 2 ranked team by FIBA, and also everyone's biggest competitors entering the Olympic Games. But sadly, Spain has only seen the losing end since 2004 when faced against the USA in crucial games. Even though Spain had Ricky Rubio, who was the scoring lead in the whole game with 38 points, he didn't have much support from others.
However, Kevin Durant led the way for the Americans. He finished the night with 29 points, followed by Jayson Tatum's 13 points. Team USA just had more star depth that kept them going. Here's how the Twitter world reacted to Team USA's success.
Classic Ricky Rubio-Kevin Durant shootout

— Zach Harper (@talkhoops) August 3, 2021
Ricky Rubio is playing so well you'd think Team USA was the Lakers

— Harrison Faigen (@hmfaigen) August 3, 2021
Dame defense is a BIG BIG problem whether y'all admit it or not

— Sunny (@Sunny1Singh_) August 3, 2021
i am so jealous of everyone who's ever had Durant on their favorite NBA team at one point this is drugs

— Rob Perez (@WorldWideWob) August 3, 2021
I'm watching Team USA struggle with Spain. My biggest concern is our coach.

— Skip Bayless (@RealSkipBayless) August 3, 2021
Thankfully, Team USA has The Best Player on the Planet: Kevin Durant. On to the semis and Patty Mills' Australia.

— Skip Bayless (@RealSkipBayless) August 3, 2021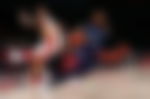 ADVERTISEMENT
Article continues below this ad
A rematch against Australia hanging over their heads
The worst is yet to come for USA, who will face the dreaded Australian team in the semis. They faced a disappointing 91-83 loss to them in Las Vegas. But can only hope that doesn't repeat, as unlike the last one, this loss will come with heavy consequences.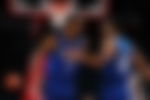 They had no response to Patty Mills and their booming offense. So, unless they can find their way around it, it's trouble for the defending champions. Do you think USA will eventually fall short and will be the one's going back instead of the Aussies? Or will this be a game fueled with revenge?
ADVERTISEMENT
Article continues below this ad
WATCH THIS STORY: Damian Lillard Raining Threes, Jayson Tatum's Slam Dunk & Other Team USA vs Iran Tokyo Olympics 2020 Highlights