Bill Russell, Ja Morant and Others React to LeBron James and Lakers Being Eliminated In the First Round
Published 06/04/2021, 1:04 AM CDT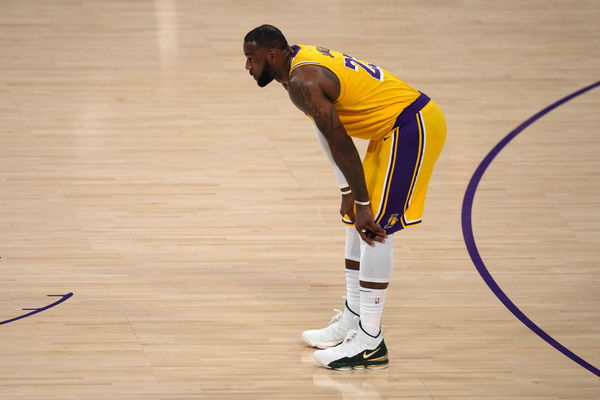 ---
---
The Los Angeles Lakers faced off against the Phoenix Suns in the sixth game of their first-round playoff series. After the Lakers took a commanding 2-1 lead, the Suns made a resounding comeback to take a 3-2 lead in the series. Considering this was an eliminator for the champions, stakes were high in this matchup.
ADVERTISEMENT
Article continues below this ad
LeBron James and Co. bow out in the first round
While the Lakers needed to win this game, it was the Suns who came out all guns blazing. The first quarter started off in an amazing fashion for the Suns. Knocking down 10 of their 13 attempted threes, the Suns stormed to a 22-point lead.
ADVERTISEMENT
Article continues below this ad
Meanwhile, the Lakers were slow to get going in the second quarter, only decreasing the deficit by a single point with Suns leading the game 62-41.
But the champions turned it up a notch in the second half. With some intelligent defending and playing small ball, the Lakers cut down the deficit to 13 points at the end of the third quarter. The champions were on their way to make a comeback.
With the clock running down, the Lakers cut down the lead to only 10 points with 8:06 remaining. But then, Chris Paul took control of the Suns' offense. The veteran point guard scored four points and had an assist in a seven point swing to the Suns.
With a 17 point lead for Phoenix, the Lakers certainly left it too little too late. The Suns ultimately closed it out with a 113-100 victory.
Even LeBron James didn't get many calls from the referees like he usually does. This victory was certainly deserved by the Suns and injuries certainly played a massive part in the champions' downfall.
Twitter reacts to the Lakers' latest defeat to the Suns
Understandably, NBA Twitter went crazy over the Suns' victory. Given that they were the underdogs coming into this tie, this series win was certainly a statement by the franchise and certainly from Devin Booker.
ADVERTISEMENT
Article continues below this ad
From Hall of Famers like Bill Russell to current stars like Ja Morant – all reacted to the Suns defeating the Lakers.
The Lakers will certainly be disappointed with the result. Given how they had revamped their roster, a first round exit was certainly not on the cards. Injuries to stars like Anthony Davis and LBJ surely played a huge part in the champions' downfall this season.
ADVERTISEMENT
Article continues below this ad
LeBron and Co. will now look to get back to full health and will certainly be ready to come out all guns blazing next season.