Bill Russell Not Being Allowed to Stay with His White Teammates Draws Emotional Reaction from Shaquille O'Neal: "Never to Complain and Not Be a Cry Baby"
Published 08/06/2022, 10:00 PM EDT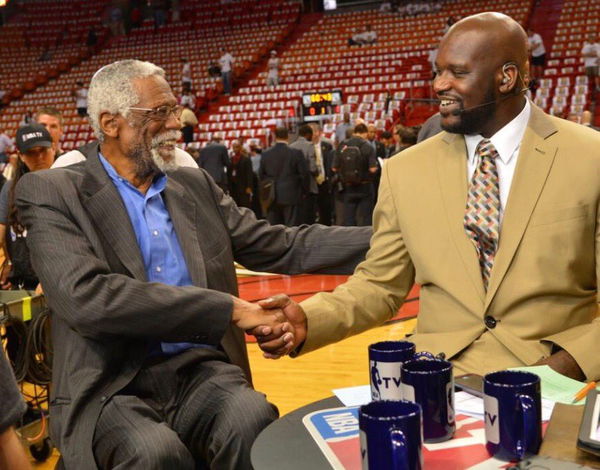 Shaquille O'Neal revealed the impact of the late great, Bill Russell, on his life and career in a recent interview. The NBA legend passed away on the 31st of July after leaving behind a legacy to be cherished for ages. In the wake of Russell's demise, Shaquille O'Neal reflects on the racial injustices that the Celtics legend had to withstand to cement his name as one of the greatest players of all time.
Shaq sat down in an interview with 'USA Today' to talk about his appearance on the CBS show "Secret Celebrity Renovation." Meanwhile, the interviewer asked Big Diesel about his thoughts on the passing of the great Bill Russell.
ADVERTISEMENT
Article continues below this ad
Hence, the Lakers legend opened up about the tremendous impact Russell had on his life and career.
Shaquille O'Neal vows to be strong and grateful in the wake of Bill Russell's passing
During the interview, Shaquille O'Neal reflected on the severe discrimination that Bill Russell faced while playing for the Boston Celtics. In fact, he pointed out that the 11-time NBA champion wasn't even allowed to stay in the same establishment as his white teammates. "I grew up knowing Bill Russell was a great man. But I didn't know until I talked to him how great," Shaq told the interviewer. "He couldn't stay in the same hotels as his (white) teammates, people would write him harsh words."
"These conversations taught me to be mentally strong, never to complain and to not be a cry baby with everything at my disposal," he added.
Incidentally, Bill Russell played with the Celtics in the 50s and the 60s. Racism ran rampant throughout the country at that time. In other words, Russell had to undergo a lot of racist abuse throughout his career.
ADVERTISEMENT
Article continues below this ad
Hotel owners in the segregated parts of America would blatantly deny service to the five-time MVP and other black players in the team. Therefore, they were compelled to stay in a different abode. Similar treatment followed in restaurants and other establishments for a long time.
Bill Russell's contributions to the league
The sacrifices of Bill Russell and his contemporaries helped progress the league for modern-day athletes of color. As a matter of fact, Shaq mentions the meager wages that Russell and his teammates received during their careers.
ADVERTISEMENT
Article continues below this ad
Watch this Story: Stephen Curry and Wife Ayesha Spend A Whopping 7 Figure Amount To Buy A 4 Bedroom House In Florida
Therefore, the four-time NBA champion chooses humility while remembering the legendary center's achievements. In other words, Shaq decides to be more grateful for the paths that the giants before him had paved for his generation.