"Blame Their Parents For Everything": NBA Analyst Destroy Kevin Durant-Draymond Green Interview
Published 08/22/2021, 11:09 PM EDT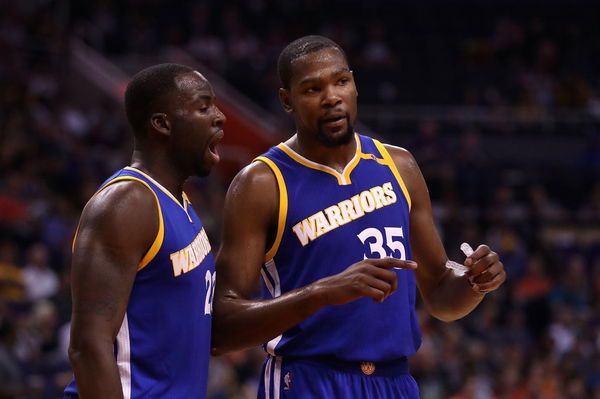 ---
---
Kevin Durant and the Warriors were arguably one of the best teams the NBA has ever seen. With elite shooting coupled with incredible shot creation, the offense of the Dubs was unstoppable.
ADVERTISEMENT
Article continues below this ad
While the big three of Durant, Stephen Curry and Klay Thompson donning the offense, it was Draymond Green who took care of the defensive end of things. Three finals appearances and two championships later, it is safe to say this Dubs team were one of the best ever.
ADVERTISEMENT
Article continues below this ad
NBA analyst slams Kevin Durant and Draymond Green
Durant and the Warriors might have had a great run, but their eventual separation was rather sketchy to say the least. One of the biggest reasons for the same being the mid-season altercation between Draymond Green and Kevin Durant.
But in a recent interview, the pair rather put the blame on Warriors' general manager Bob Myers and coach Steve Kerr for being the primary reason for the team falling apart. Analyst Israel Gutierrez however was having none of it.
In a recent episode of Pardon the Interruption, the 44-year0old called out Green and Durant for not taking responsibility. "It just reminds me of you know two young adults, whose lives have gone awry and they just blame their parents for everything for making mistakes that they didn't even know they made."
ADVERTISEMENT
Article continues below this ad
What is the playbook for that when two of your stars are just going at each other kind of lose their minds on the court and then you know you pick one you suspend the guy Draymond Green and you just hope that they fix that amongst themselves."
He added, "To take the blame away from yourself Draymond Green is everything confusing here because at the time it seemed like everybody was blaming him."
ADVERTISEMENT
Article continues below this ad
While Durant and Green were pretty vocal of Myers and Kerr being responsible for the messy breakup of the team, there is no denying that the fight itself would have left a massive impact in the locker room. After the departure of Durant, the Warriors have had their fair share of struggles and have surely fallen off.
Do you think Draymond Green and Kevin Durant were right to put the blame on Steve Kerr and Bob Myers?