Blazers' CJ McCollum Reveals Why He Won't Be Bothered if He Doesn't Make the All-Star Team Ever
Published 03/26/2021, 6:30 AM EDT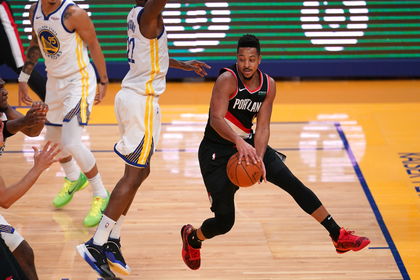 ---
---
The Portland Trail Blazers have one of the best backcourts in the NBA with the duo of Damian Lillard and CJ McCollum. The McCollum-Lillard duo has led the Blazers to a record 26 wins and 18 losses and are the sixth seed in the Western Conference.
While Lillard has continued to be in an amazing form, CJ McCollum has truly stepped up this season. The 29-year-old is having a career-high season averaging 24.4 points, 4.5 assists, and 3.6 rebounds per game.
Blazers' CJ McCollum opens up on All-Star snub
Despite averaging more than 20 points per game for six seasons now, it is shocking to see a player of McCollum's caliber not making a single All-Star appearance till now. Although one might argue that the Western Conference is stacked with talented guards, McCollum deserves at least 2 All-Star appearances.
But the 29-year-old seems unbothered by the same. After a fantastic comeback win against the Heat where he scored a whopping 35 points, McCollum made an appearance on Inside the NBA.
There. the 2016 MIP opened on his relationship with Damian Lillard. CJ said, "I want him to be the best version of himself and that means sometimes I might have it going, but he's a closer. Ball was in his hands down the stretch, I had no problem with it win or lose. I understand the work he puts in, he understands the work I put in, and I think we continue to empower each other."
The 29-year-old later opened up on the number of All-Star snubs he has had over the years and why he is unphased by the same. McCollum said, "In terms of the all-star game and stuff like that man, I just work extremely hard and I don't need validation from outsiders. I don't need validation from other people because I know what I have and what I bring to the table so if I never make an All-Star Game, I won't be sad about it because I know I'm nice and I know a lot of people respect my game."
With CJ taking a massive step up, the Blazers might be in the driver's seat for becoming a dark-horse contender. Can the Blazers win the NBA title with the trio of Norman Powell, Damian Lillard, and CJ McCollum?
ADVERTISEMENT
Article continues below this ad