Bobby Portis Shares His Experience Playing Alongside Giannis Antetokounmpo and Jrue Holiday
Published 03/01/2021, 5:30 PM EST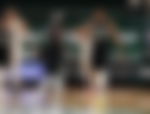 ---
---
The Milwaukee Bucks, once again, have gathered their momentum and are on a five-game winning streak. However, unlike last season when they were at the top of the Eastern Conference, the Bucks are now standing third. With the way the 76ers have been playing, one can't really blame the Bucks. Nevertheless, the Giannis Antetokounmpo and Jrue Holiday combination has really done wonders this season.
ADVERTISEMENT
Article continues below this ad
They are showing the potential of going deep in the playoffs and being a possible threat to the reigning champions as well. One of the veteran players, Bobby Portis, even opened up on what it's been like to share the court with these two superstars.
How Giannis Antetokounmpo keeps the Bucks together
ADVERTISEMENT
Article continues below this ad
On a podcast with Alex Kennedy, Bobby Portis was asked how it was different now that he was playing with Giannis Antetokounmpo and not battling against him.
"It's been fun, man," said Bobby. "He's an unselfish guy, a standup guy. A guy that gives his all to the team each and every night… Never misses a game, plays hard. It's kind of cool being around a superstar guy like that… He's just so selfless like. He is his self every day, comes with a smile on his face, cracks jokes, talks to everybody."
Portis even talked about how they bond with one another and said, "We hang out sometimes, play cards, in different people's houses and things like that. So, it's fun, man. Being around a superstar-caliber like that, that's still so genuine and humble."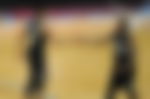 Jrue Holiday has an incredible left hand
Jrue Holiday has a great reputation as a teammate. He was even voted Teammate of the Year when he was with New Orleans Pelicans last year. Hence, Portis was asked how it was having Jrue on the team with them and how he has impacted them.
ADVERTISEMENT
Article continues below this ad
"I played with Jrue's big bro, Justin Holiday in Chicago, for two seasons," Portis said. "It was fun man, playing with him, being on the team with the man because he's a good player. He is a crazy defender… He uses his left hand more than his right hand. His left hand is crazy on the court. Just being his teammate, being around him, he's a genuine guy who cares a lot. I think everybody knows how much he cares about anyone, man… Being around him every day is good… He is a competitor and a cool guy to be around."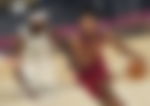 A lot of the season is still left for the Bucks to keep proving themselves. Do you think the Milwaukee Bucks have a shot at the title thanks to this duo? Or do they need some more time before they can start to matchup up to teams like the Lakers, 76ers, and the Nets?
ADVERTISEMENT
Article continues below this ad