'Booing for You': Pelicans' Zion Williamson Reacts Merrily on Playing in NY Even After an OT Loss
Published 04/18/2021, 10:40 PM EDT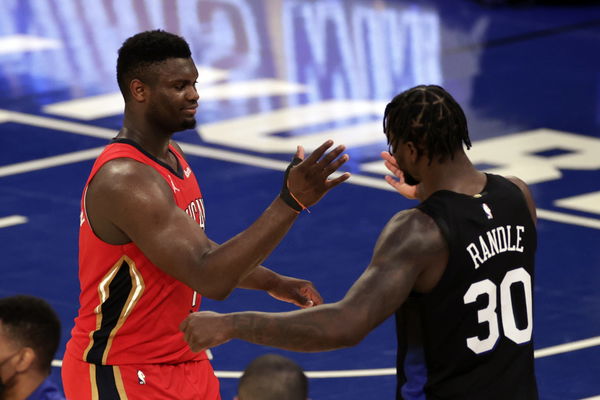 ---
---
The Pelicans are coming out of a tough week, losing two back-to-back OTs and also the series against the Knicks. Turns out that Zion Williamson's extraordinary form is not enough for them to get consistent with winning. As a result, they're very less likely to make it to the play-in tournament.
ADVERTISEMENT
Article continues below this ad
After shaving a victory against the Sixers on April 9, it appeared that they could make a strong comeback. However, their clutch time woes have kept their feet chained. Still, what was that one thing Zion enjoyed even amidst these losses?
It's now official that Zion Williamson loves New York
ADVERTISEMENT
Article continues below this ad
The Salisbury native, Zanos, is a fan of NY City, and it became official after his most recent interview. In a post-game media interaction, the 20-YO could not stop smiling at a question about how he likes playing at Madison Square Garden. 
The star exclaimed, "I'm glad you asked that actually. New York is the Mecca of basketball. I love playing here, I played here in college. This is my first time playing in the pros. I mean this atmosphere, whether they're cheering for you, whether they're booing for you, is amazing. Honestly, outside of New Orleans, obviously, I think it is my favorite place to play. I can't even lie to you."
The unsettling part of this answer was the consistent smile from Zion Williamson. He was evidently overjoyed with the question, and that spoke heavily about his interest in someday playing for the Knicks.
Even as a Duke athlete, playing alongside RJ Barrett, a teenager Zion wanted to play for the Knicks. However, the lottery luck did not swing his way, and he ended up becoming a Pelican.
But the fact that a crowd of just 1981 felt electrifying to the youngster makes his future preferences visible.
Pelicans coach frustrated at the loss against the Knicks
The Pelicans were leading the game with fewer than 8 seconds remaining, with a 3-point lead on the box. However, a mix-up in the final moment led to them awarding the Knicks a shot at attempting an equalizer.
ADVERTISEMENT
Article continues below this ad
Eric Bledsoe could not follow the coach's clear instructions to foul when the first opponent puts the ball on the floor. Just as Eric missed that detail against Derrick Rose, Lonzo Ball made a panicking rotation that left Reggie Bullock wide open. Following that, a Rose assist, and bang! The game went into the OT and the Pelicans lost.
Coach Stan Van Gundy later admitted, "We screwed up that entire play."
This was not a game for the Pelicans to lose, with Zion scoring game-high 34 points. It appears that Coach Gundy will have to try a new approach to deal with their clutch issues.
ADVERTISEMENT
Article continues below this ad
Read Also – Zion Williamson Second Only to Michael Jordan in This Illustrious NBA Achievement
Trending Stories