Boston Celtics, Houston Rockets, and Other Possible Trade Destinations for Aaron Gordon
Published 03/22/2021, 2:57 PM EDT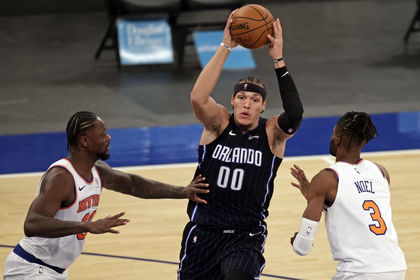 ---
---
Aaron Gordon joined Orlando Magic during the 2014 NBA Draft. Magic paved the way for Gordon's NBA career by selecting him with the 4th overall pick, but his stint in Orlando might soon come to an end. 
ADVERTISEMENT
Article continues below this ad
Gordon has played in Orlando for the past 7 years, but the franchise hasn't produced eye-catching results. Although they've been making it to the postseason for the past 2 years, a 1st-round exit has been inevitable so far. 
As for Aaron Gordon, he hasn't fully thrived as an individual with the Magic. Although he was touted as having the potential to carry them to the promised land, the forward's numbers don't reflect the same.
ADVERTISEMENT
Article continues below this ad
Furthermore, the Magic's dismal form this season has urged Gordon to request a formal trade. 
Five teams that can sign Aaron Gordon before the trade deadline
The Orlando Magic are stuck in a trench of troubles and Gordon wants out. They recently suffered a 9-game losing streak, and Gordon does not want to suffer anymore, despite a year remaining in his contract.
So which teams should look to trade for Aaron Gordon?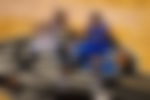 Houston Rockets
The Houston Rockets are the first team on the list owing to their string of poor performances. Aaron Gordon can certainly rejuvenate their form if traded, but there are complications that come along with the thought. 
The Rockets can trade Victor Oladipo and get Gordon in return, but that is a move that hardly makes sense. They would want to build their future around these two players and doing it with just one would hinder their success. 
Houston has a few first-round picks at their disposal and can add players like Danuel House to match Gordon's salary. 
Denver Nuggets
The Nuggets too, have enquired about Aaron Gordon, which is indeed to bolster their frontcourt options. Denver can acquire a player like Gordon and aim to finish higher in the West. 
While they have very little time to make a move, the Nuggets might consider trading an upcoming youngster along with a 1st-round pick, but they would also need to send out somebody like JaMychal Green or Paul Millsap to match the salary cap.
Boston Celtics
The Boston Celtics are one of the most-watched teams in the trade market. While they are interested in multiple players, Aaron Gordon makes the cut yet again. 
The Celtics have a huge $28.5 million trade exception, gained from Gordon Hayward's departure to Charlotte. The sign-and-trade has given the Celtics a huge opportunity, and the franchise will sign a player before the trade deadline. 
While they're looking at Gordon, Boston has also laid its sights on Hawks' John Collins and Bogdan Bogdanovic. 
Detroit Pistons
Chris Haynes reported that the Detroit Pistons have come calling for Aaron Gordon. It is quite impressive to see so many teams knocking on the door for the forward, and it implies that he's got a bright future if he makes the move. 
While one might wonder if the Pistons really require a player like Gordon, and it's quite natural. They would have to part ways with Delon Wright or Mason Plumlee plus one other player, and it's debatable if they should. 
Portland Trail Blazers
The NBA trade deadline for 2021 is March 25th, and teams would make last-minute moves to bolster their chances. Be it a championship-contending team or any other franchise, everyone would like to make a surge. 
The Portland Trail Blazers are rumored to be interested in signing Aaron Gordon, and it is justifiable. The Blazers are 6th in the West and their 59.5% winning rate is impressive. 
ADVERTISEMENT
Article continues below this ad
The best possible lineup for Portland would be to pair Robert Covington with Gordon and improve on their wing play by adding the latter into the mix.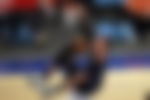 All these teams are rumored to be in pursuit of Aaron Gordon, yet he can only join one team at the moment. Will it be an extension in Orlando or aloha to a new team in the NBA? 
ADVERTISEMENT
Article continues below this ad