Celtics' Jayson Tatum Drops 60 Bombs and Bags Praise from Draymond Green, Donovan Mitchell, & Others
Published 05/01/2021, 12:04 AM EDT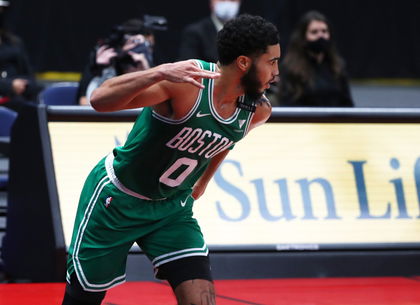 ---
---
The Celtics made possible the impossible against the Spurs in their 143-140 overtime victory. It was an electrifying game that saw both the sides equally dominant with the Celtics enjoying the last laugh.
ADVERTISEMENT
Article continues below this ad
It will not be wrong to suggest that it was Jayson Tatum vs San Antonio Spurs on Friday night. If not for him, the C's would have accepted their worst loss of the season. But none of that happened as JT turned the game upside down, taking the league by surprise. 
Twitter was all praise for Jayson Tatum 
ADVERTISEMENT
Article continues below this ad
After Jayson Tatum's bolstering performance for the C's, it was obvious that he generates reactions on Twitter. The former NBA champion (with '08 Celtics) and currently NBA analyst, Kendrick Perkins, noted it as an "extra spicy" effort from the youngster. 
Also, Tatum's opponents in Draymond Green, Donovan Mitchell, Bam Adebayo, De'Aaron Fox, and Harry Giles III joined the bandwagon to shower praises on his killer outing. Take a look at how all of them reacted –
Yes, with this 60-point night, the 23-YO star matched the franchise top-scorer earlier set by legendary Larry Bird almost 36 years ago in March 1985. Larry had pulled that stunt against the Hawks, scoring just one Three-Pointer in his 43 mins of play.
Read Also – Celtics' Jayson Tatum Expresses Desire to Shoot Like Stephen Curry
How did the Celtics force a turnaround against the Spurs?
ADVERTISEMENT
Article continues below this ad
At one point, the Spurs were 32 points ahead of the Celtics and it was appearing as if they'll take a 50-point victory. The Spurs did all the damage in the first half where they remained a crazy 71.4% from the field. However, all that faded away just as the C's bounced back in the game.
It was all a Jayson Tatum show, considering he scored 24 points of the C's 48 points in the first half. Aaron Nesmith was another feather in their victory as the Rookie scored a career-high 16 points to help Tatum. But role player aside, it was Tristan Thompson from the bench who out-rebounded everyone to help the C's gain some crucial possessions.
On the downside, though, it was a nightmarish 5/24 outing for Jaylen Brown, but his clutch three made up for all the errors. This night must serve as a wake-up call for Evan Fournier and Marcus Smart too, if the C's want to go up in the ranks.
ADVERTISEMENT
Article continues below this ad
Was this Jayson Tatum's best performance ever? Help us know in the comments.