Boston Celtics' Opens Up About Conversation With Steph Curry After Victory Against Warriors
Published 04/18/2021, 6:15 AM EDT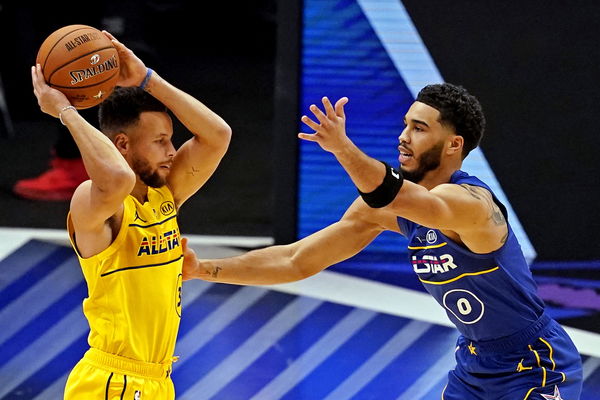 ---
---
The Golden State Warriors and the Boston Celtics put on a show in their recent matchup. With the way superstars Steph Curry and Jayson Tatum went back and forth, the Warriors-Celtics game became a must watch.
But ultimately, Tatum and the Celtics prevailed in the matchup as they won the game 119-114. The 23-year-old scored a team high 42-points and led the team in Jaylen Brown's absence.
Apart from Tatum, Kemba Walker finally looks healthy, adding 26 points on the board. He also scored a crucial three pointer to seal the game for the Celtics.
Jayson Tatum opens up about conversation with Steph Curry
While the Celtics might have won the game against the Dubs, Warriors' talisman Steph Curry had an exceptional night as well. Scoring a whooping 47-points, Curry scored more than 30 points for the tenth straight game.
After the game, Tatum and Curry shared a special moment and spoke with each other. In the post-game interview with Rachel Nichols, Tatum revealed the conversation he had with Curry.
"Just mutual respect um obviously he's one of one of the greats and uh you know just to earn the respect of somebody like him and get a win is everything."
Nichols also asked about how the Celtics approached to the game and tried to contain Curry. Tatum replied, "I mean it was tough it's a collective effort um you know. Smart did a hell of a job but you know he's (Steph Curry) gonna hit tough shots and you gotta tip your cap uh and just try to make it tough as you can."
ADVERTISEMENT
Article continues below this ad
This was the Celtics' sixth straight win and their fourth straight win on the road. What made this win more impressive for Boston is that they were missing in-form superstar Jaylen Brown in this game.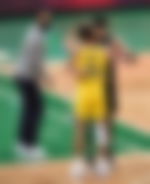 The Celtics have hit form at the perfect time possible. With their current form, they can be a headache for some of the biggest teams in the East. As for the Warriors, the Dubs were snapped off of their four game-winning run and have slipped below the .500 to a record of 28 wins and 29 losses.
ADVERTISEMENT
Article continues below this ad
Both the teams have had some tumultuous times in this season. They will hope that their superstars Steph Curry and Jayson Tatum can lead their respective teams and bail them out.