Boston Celtics: Potential Trade Options for Scoring Forward
Published 03/03/2021, 12:30 AM EST
---
---
After having a troubling first half of the season, the Boston Celtics stand sixth in the Eastern Conference with a 17-17 record. Despite having star players like Jayson Tatum and Jaylen Brown, why aren't they playing like the playoff team everyone saw last season? This could be because their power forward area seems to have become an area of weakness, ever since Gordon Hayward left.
ADVERTISEMENT
Article continues below this ad
With the March 25 trade deadline inching closer, rumors have emerged that general manager, Danny Ainge, will look to make his first in-season trade acquisition. The last time they did this was in 2015 when they got Isaiah Thomas from the Phoenix Suns.
Danny Ainge's thoughts on the matter
ADVERTISEMENT
Article continues below this ad
As per ESPN's Tim Bontemps, "Rival executives believe they [Celtics] are hunting for a player who can play either forward spot and provide some scoring punch — exactly the kind of player they lost as Hayward left."
With the franchise's low salary, Ainge indicated what he wants to do this season and said, "If there's players we can get that can put us over the top and keep us under the hard cap, we'll do a deal that falls into that category. But we're not going to do it for a band-aid. Or somebody that maybe, maybe, will help us a game or two."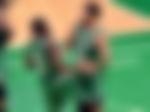 Who can the Boston Celtics target?
The blockbuster Hayward sign-and-trade ended up creating a league-record $28.5 million trade exception. Why wouldn't Boston utilize this before it expires?
Also, this gives Danny more flexibility in converting a disappointing Celtics team into the title contenders who appeared in the Eastern Conference Finals last season. So who can the team target?
Jerami Grant and Aaron Gordon
Jerami Grant from the Detroit Pistons seems like one of those options who could be on Boston's radar. There have been no indications that the Pistons want to part with him after they acquired him in the last offseason. But the Celtics could make them an offer that they can't refuse.
Grant would make a spectacular third option behind Jaylen Brown and Jayson Tatum. He is averaging 23.4 points, 5.3 rebounds, and shooting 36.3% from the distance.
However, the story behind Aaron Gordon is a little different. The Orlando Magic is looking to go for a rebuild, and it's possible that they might be looking to let go of Gordon. According to Brian Windhorst, "The Orlando Magic possibly could be willing to part with a guy like Evan Fournier. Maybe a guy like Aaron Gordon, that is being chatted around about by executives."
ADVERTISEMENT
Article continues below this ad
Right now, Gordon has been sidelined because of his ankle injuries but is expected to return before the trade deadline. Gordon can play every front-court position, and that is exactly what the Celtics need.
Who do you think that Celtics should consider other than these two?
Read also- OPINION: Three Things Boston Celtics Need to Do to Turn Their Season Around
ADVERTISEMENT
Article continues below this ad