Bradley Beal Has A Hilarious Reaction to His New NBA 2K Rating
Published 08/21/2021, 3:23 AM EDT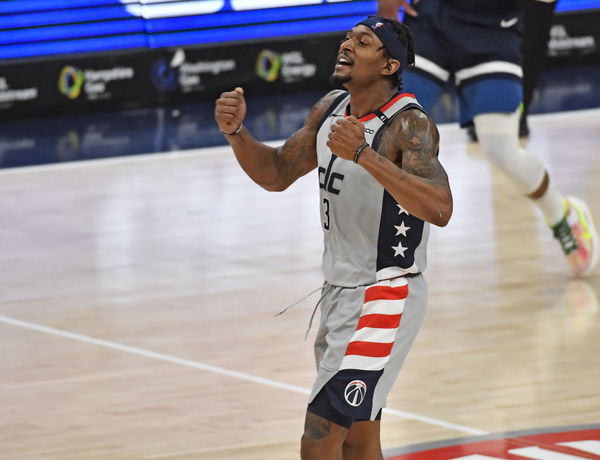 Washington Wizards' superstar Bradley Beal has been one of the most prolific scorers in the NBA for the last two seasons. While his team hasn't had much success, Beal has been the biggest positive for the Wizards.
Despite having a lackluster supporting cast around him, Beal alongside backcourt partner Russell Westbrook eventually led the Wizards to a spot in the play- in tournament and ultimately a first-round matchup against the 76ers.
ADVERTISEMENT
Article continues below this ad
Bradley Beal reacts to his NBA 2K21 rating
Beal over the years has become one of the most underrated guards in the league. From being the second fiddle to John Wall to being the leader for the Wizards, the 28-year-old has surely come a long way in his career.
Just like his status in the league, Beal gets a similar treatment in his NBA 2K ratings too. The 28-year-old had a stunning 2020-21 season. Averaging a whopping 31.3 points, 4.3 assists, and 4.7 rebounds per game, the 28-year-old was only topped by Steph Curry in the scoring charts in the league.
But it looks like NBA 2K doesn't care about the monstrous season Beal is coming off of as the 3-time All-Star was rewarded with a rating of only 89. Beal was certainly not the biggest fan of his rating. The 28-year-old had a hilarious reaction to the same, as he posted a GIF of himself being disappointed during a Wizards game.
ADVERTISEMENT
Article continues below this ad
While Jayson Tatum and Trae Young might be rated higher than Beal because of their playoff performance, young gun Zion Williamson being rated higher than the 3-time All-Star was rather puzzling.
The 28-year-old now enters the 2021-22 season with a pretty new-look roster. With a much better supporting cast which includes the likes of Kentavious Caldwell-Pope, Kyle Kuzma, and Montrezl Harrell, the Wizards finally have quality depth in their side.
ADVERTISEMENT
Article continues below this ad
But the lack of star power might limit them to being just a playoff team. Is Bradley Beal really willing to stick around or will he join another super-team? With his prime running out, the 3-time All-Star has a real challenge in his hands and might have to make some tough decisions. What do you think Beal will do this off-season?
WATCH THIS STORY: 5 Kobe Bryant Quotes That Can Send a Chill Down Your Spine