Brandon Ingram Opens Up About His Goals After Signing a Max Extension With the New Orleans Pelicans
Published 01/01/2021, 10:49 PM EST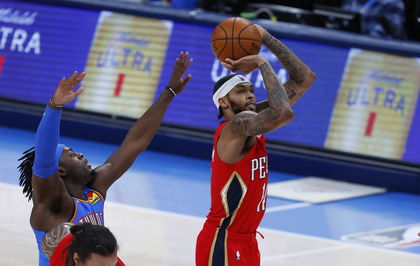 ---
---
The New Orleans Pelicans did themselves a huge favor by making Brandon Ingram a member for the foreseeable future. According to ESPN's Adrian Wojnarowski, the Pelicans have signed a five year $158 million maximum contract extension with the bonafide superstar and elite scorer.
ADVERTISEMENT
Article continues below this ad
New Orleans Pelicans All-Star F Brandon Ingram has agreed to a five-year, $158 million maximum contract extension, his agents Jeff Schwartz and Jordan Gertler of @excelsm_bball tell ESPN.

— Adrian Wojnarowski (@wojespn) November 24, 2020
ADVERTISEMENT
Article continues below this ad
We all know that this signing is an attempt to stay alive in the competitive Western Conference. However, what does Brandon Ingram feel about this opportunity?
Brandon Ingram knows what he has to do
In an interview with Ingram on 'The Old Man and the Three', he was asked, "The moment you realized you were getting a five-year max, what was your emotion? Like what did that mean to you?"
Ingram paused and said, "It still hasn't hit me… like that's just motivation and that's the celebration of work. That's what I am talking about and that's the reward that you get for working and I understand that."
He further explained what he believes he should do now that he is a part of the Pelicans for five long years. "I got to be the same person no matter what, and I got to move on from there. I know this is a big contract and I know I am blessed for it and I got to celebrate," said Ingram.
He also opened up about what he wants out of this. He stated, "But it's things that I want to achieve, that maybe at the end of my life or at the end of my career, I can actually smile and happy. Because this is the list of things that I went through, and this is what I got from it."
Brandon's journey to the Pelicans
Ingram made his way to the league as a member of the reigning champions, the Lakers, as the No. 2 overall pick in 2016. He spent his career's first three seasons with them and showed no restraint in flashing his potential. However, the Pelicans traded him to the New Orleans Pelicans before the 2019-20 campaign so that they could land Anthony Davis.
In just his first season with New Orleans, he finished with his career-best performance. He averaged 23.8 points, 6.1 rebounds, and 4.2 assists per game and became their primary scorer.
ADVERTISEMENT
Article continues below this ad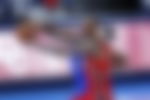 The Pelicans clearly want to build a team around him and their young star, Zion Williamson. Will their strategy of locking in a skilled player like him help them go deeper in the playoffs?
ADVERTISEMENT
Article continues below this ad