'Bring It On' – Jeanie Buss Issues Challenge to Franchises Looking to take LA Lakers Throne
Published 03/31/2021, 8:30 AM EDT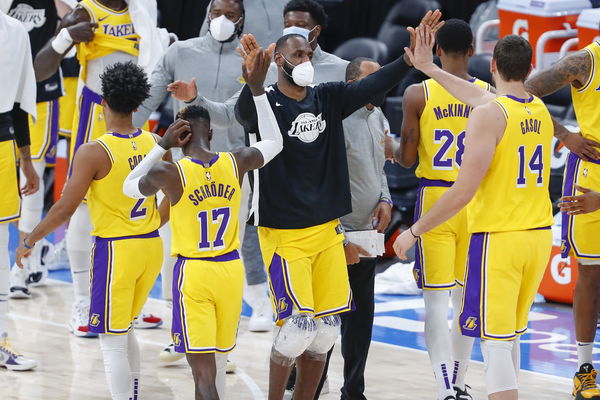 ---
---
The LA Lakers had an incredible run to the NBA championship last season. In just two seasons since his arrival, LeBron James brought Anthony Davis to the Lakers and then worked with him to bring the NBA championship back to LA. For the Lakers, it was their first championship in 10 years, and a signal to the league that they're back. But the rest of the NBA is now gunning for their spot.
ADVERTISEMENT
Article continues below this ad
Jeanie Buss fires a warning
Los Angeles Lakers owner Jeanie Buss spoke to Stephen A. Smith recently about the NBA aiming to dethrone them. She welcomed their competition, noting that their rivals make them stronger. Buss highlighted the coaching staff, including head coach Frank Vogel, and noted how they welcome the challenge. The Lakers are ready and willing to take on the best of the best in the NBA.
ADVERTISEMENT
Article continues below this ad
"It brings out the best in us. When teams identify us as the team to beat and they gear up to go at us head-to-head, that makes us work harder. Our coaching staff with Frank Vogel and Lionel Hollins and Jason Kidd and Phill Handy. They love the challenge, that's what they do. So, bring it on. I wish everybody well as we lead into the playoffs, and that's what makes it so exciting."
LA Lakers looking to defend their crown
Buss' comments come as no surprise. She has been a big believer in the Lakers' ability this year. Coming off of an excellent NBA championship run, the Lakers rebuilt their roster, and started the season off strong. LeBron James especially had been performing at an MVP level. However, he sustained a major injury that has sidelined him for an extended period.
ADVERTISEMENT
Article continues below this ad
In the absence of LeBron James and Anthony Davis, the LA Lakers have struggled majorly. Currently, they have been able to get three wins in a row, a run that they hope will spell the changing of fortunes. The Lakers will not want to rush LeBron James or Anthony Davis back, as they need them at full health for the playoffs this year?
ADVERTISEMENT
Article continues below this ad
Can the LA Lakers win the NBA championship this season? The addition of Andre Drummond has improved their odds greatly. However, the Western Conference has gotten a lot stronger past the trade deadline, with teams like the Nuggets and Clippers making significant additions. And if they reach the finals, they must face the offensive juggernauts that is the Brooklyn Nets.