Brooklyn Nets 2021-22 NBA Schedule: Important Fixtures Involving Milwaukee Bucks, Lakers and Others
Published 08/23/2021, 5:30 PM EDT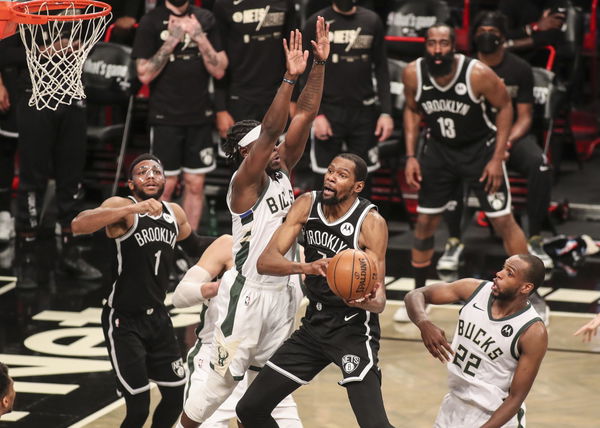 ---
---
After forming the super team of the year, the Brooklyn Nets had the weight of the world on their shoulders to win the NBA title last season. However, their three superstars, James Harden, Kyrie Irving, and Kevin Durant could not maintain their health throughout, which eventually led to their downfall.
ADVERTISEMENT
Article continues below this ad
Although they lost to the eventual NBA champions, Milwaukee Bucks, they did leave with their heads held high after all Kevin Durant contributed. Fortunately, the Nets will have their trio intact in the upcoming season, which means they have another real shot at a title.
Also, they re-signed Blake Griffin and Bruce Brown. But they also added some experienced veterans like Patty Mills, James Johnson, DeAndre' Bembry, and Jevon Carter as well. With that in mind, let's look at what their schedule looks like in 2021-22, and what are the important matchups.
ADVERTISEMENT
Article continues below this ad
Exciting Brooklyn Nets games to look out for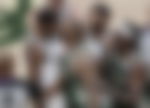 The Brooklyn Nets will kick start their journey against the team that ended their hopes of winning the championship last season. On October 19, 2019, the Nets will meet the Milwaukee Bucks on their terrain at Fiserv Forum at 7:30 PM EST. While a Giannis Antetokounmpo and Kevin Durant face-off will be a must-watch, Jrue Holiday and Khris Middleton might be guarding James Harden and Kyrie Irving.
So, this will be a battle of the trio, and an excellent opportunity for Brooklyn to extract their revenge, and winning against them might be the ideal start of the new season for them.
Next up, this Christmas Day matchup between Nets and Lakers on December 25 at 8:00 PM EST in Staples Center, will have more superstars on the court than any other game. While the Nets have their three-headed monster, the Lakers' blockbuster offseason has helped them make a super team of their own. With Anthony Davis, LeBron James, Russell Westbrook, Carmelo Anthony, Dwight Howard, and even Marc Gasol.
ADVERTISEMENT
Article continues below this ad
WATCH THIS STORY: Atrocious NBA Chants By Fans: From Screaming "Kobe's Better" to LeBron James, Calling Kawhi Leonard a "Traitor" & Much More
Complete schedule for 2021-22 season
Oct 3 (3:30 pm EST)

Away

 

Los Angeles Lakers

(Preseason)

Jan 13 (8:30 pm EST)

 

Home

 

Oklahoma City Thunder

Oct 8 (7:30 pm EST)

 

Home

 

Milwaukee Bucks

(Preseason)

Jan 15 (7:30 pm EST)

 

Home

 

New Orleans Pelicans

Oct 11 (7:00 pm EST)

 

Away

 

Philadelphia 76ers

(Preseason)

Jan 17 (3:00 pm EST)

 

Away

 

Cleveland Cavaliers

Oct 14 (7:30 pm EST)

 

Home

 

Minnesota Timberwolves

(Preseason)

Jan 19 (7:00 pm EST)

 

Away

 

Washington Wizards

Oct 19 (7:30 pm EST)

 

Away

 

Milwaukee Bucks

Jan 21 (8:00 pm EST)

 

Away

 

San Antonio Spurs

Oct 22 (7:30 pm EST)

 

Away

 

Philadelphia 76ers

Jan 23 (8:00 pm EST)

 

Away

 

Minnesota Timberwolves

Oct 24 (4:00 pm EST)

 

Home

 

Charlotte Hornets

Jan 25 (7:30 pm EST)

 

Home

 

Los Angeles Lakers

Oct 25 (7:30 pm EST)

 

Home

 

Washington Wizards

Jan 26 (7:30 pm EST)

 

Home

 

Toronto Raptors

Oct 27 (7:30 pm EST)

 

Home

 

Miami Heat

Jan 29 (8:30 pm EST)

 

Away

 

Golden State Warriors

Oct 29 (7:30 pm EST)

 

Home

 

Indiana Pacers

Feb 1 (10:00 pm EST)

 

Away

 

Phoenix Suns

Oct 31 (7:30 pm EST)

 

Home

 

Detroit Pistons

Feb 2 (10:00 pm EST)

 

Away

 

Sacramento Kings

Nov 3 (7:30 pm EST)

 

Home

 

Atlanta Hawks

Feb 4 (9:00 pm EST)

 

Away

 

Utah Jazz

Nov 5  (7:00 pm EST)

 

Away

 

Detroit Pistons

Feb 6 (3:30 pm EST)

 

Away

 

Denver Nuggets

Nov 7 (3:30 pm EST)

 

Away

 

Toronto Raptors

Feb 8 (7:30 pm EST)

 

Home

 

Boston Celtics

Nov 8 (8:00 pm EST)

 

Away

 

Chicago Bulls

Feb 10 (7:00 pm EST)

 

Away

 

Washington Wizards

Nov 10 (7:00 pm EST)

 

Away

 

Orlando Magic

Feb 12 (8:00 pm EST)

 

Away

 

Miami Heat

Nov 12 (8:00 pm EST)

 

Away

 

New Orleans Pelicans

Feb 14 (7:30 pm EST)

 

Home

 

Sacramento Kings

Nov 14 (7:00 pm EST)

 

Away 

 

Oklahoma City Thunder

Feb 16 (7:30 pm EST)

 

Away

 

New York Knicks

Nov 16 (7:30 pm EST)

 

Home

 

Golden State Warriors

Feb 24 (7:30 pm EST)

 

Home

 

Boston Celtics

Nov 17 (7:30 pm EST)

 

Home

 

Cleveland Cavaliers

Feb 26 (8:30 pm EST)

 

Away

 

Milwaukee Bucks

Nov 19 (7:30 pm EST)

 

Home

 

Orlando Magic

March 1 (7:30 pm EST)

 

Away

 

Toronto Raptors

Nov 22 (7:00 pm EST)

 

Away

 

Cleveland Cavaliers

March 3 (7:30 pm EST)

 

Home

 

Miami Heat

Nov 24 (7:30 pm EST)

 

Away

 

Boston Celtics

March 6 (1:00 pm EST)

 

Away

 

Boston Celtics

Nov 27 (7:30 pm EST)

 

Home

 

Phoenix Suns

March 8 (7:00 pm EST)

 

Away

 

Charlotte Hornets

Nov 30 (7:30 pm

EST)

 

Away

 

New York Knicks

March 10 (7:30 pm EST)

 

Away

 

Philadelphia 76ers

Dec 3 (7:30 pm EST)

 

Home

 

Minnesota Timberwolves

March 13 (1:00 pm EST)

 

Home

 

New York Knicks

Dec 4 (7:30 pm EST)

 

Home

 

Chicago Bulls

March 15 (7:00 pm EST)

 

Away

 

Orlando Magic

Dec 7 (7:30 pm EST)

 

Away

 

Dallas Mavericks

March 16 (7:30pm EST)

 

Home

 

Dallas Mavericks

Dec 8 (8:00 pm EST)

 

Away

 

Houston Rockets

March 18 (7:30 pm EST)

 

Home

 

Portland Trail Blazers

Dec 10 (7:30 pm EST)

 

Away

 

Atlanta Hawks

March 21 (7:00 pm EST)

 

Home

 

Utah Jazz

Dec 12 (6:00 pm EST)

 

Away

 

Detroit Pistons

March 23 (7:30 pm EST)

 

Away

 

Memphis Grizzlies

Dec 14 (7:30 pm EST)

 

Home

 

Toronto Raptors

March 26 (7:30 pm EST)

 

Away

 

Miami Heat

Dec 16 (7:30 pm EST)

 

Home

 

Philadelphia 76ers

March 27 (7:30 pm EST)

 

Home

 

Charlotte Hornets

Dec 18 (7:30 pm EST)

 

Home

 

Orlando Magic

March 29 (7:30 pm EST)

 

Home

 

Detroit Pistons

Dec 19 (7:30 pm EST)

 

Home

 

Denver Nuggets

March 31 (7:30 pm EST)

 

Home

 

Milwaukee Bucks

Dec 21 (7:30 pm EST)

 

Home

 

Washington Wizards

April 2 (7:30pm

EST)

 

Away

 

Atlanta Hawks

Dec 23 (10:00 pm EST)

 

Away

 

Portland Trail Blazers

April 5 (7:30 pm EST)

 

Home

 

Houston Rockets

Dec 25 (8:00 pm EST)

 

Away

 

Los Angeles Lakers

April 6 (7:30 pm EST)

 

Away

 

New York Knicks

Dec 27 (10:30 pm EST)

 

Away

 

LA Clippers

April 8 (7:30 pm EST)

 

Home

 

Cleveland Cavaliers

Dec 30 (7:00 pm EST)

 

Home

 

Philadelphia 76ers

 

 

 
Jan 1 (7:30 pm EST)

 

Home

 

LA Clippers

 
 
Jan 3 (7:30 pm EST)

 

Home

 

Memphis Grizzlies

 
 
Jan 5 (7:30 pm EST)

 

Away

 

Indiana Pacers

 
 
Jan 7 (7:30 pm EST)

 

Home

 

Milwaukee Bucks

 
 
Jan 9 (7:30 pm EST)

 

Home

 

San Antonio Spurs

 
 
Jan 12 (10:00 pm EST)

 

Away

Chicago Bulls

 
 
ADVERTISEMENT
Article continues below this ad