'Brooklyn Nets are Going to the NBA Finals': Stephen A. Smith Left Mesmerized by James Harden's Arrival
Published 01/18/2021, 3:27 PM EST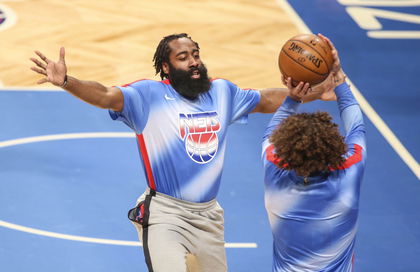 ---
---
The Brooklyn Nets are yet to bring out the big guns altogether and put it to effect against opponents. Kyrie Irving is out of the team, but it seems like Kevin Durant and James Harden are enough to carry the Nets all the way to the NBA Finals. That's exactly what Stephen A. Smith thinks as well! 
ADVERTISEMENT
Article continues below this ad
The Brooklyn Nets earned the admiration of Stephen A. Smith
The Nets reunited James Harden and Kevin Durant after nine long years, and the duo caught up in spectacular fashion. James Harden notched up a historic 30-point triple-double, a franchise record, while Durant soared with 42 points. 
ADVERTISEMENT
Article continues below this ad
Their pairing was wonderful to witness, and the two former MVPs looked like they're forming a solid partnership once again. Stephen A. Smith witnessed the new-look Brooklyn Nets destroy Orlando Magic, which forced him to make an early prediction: 
"Well, I learned that the  Brooklyn Nets are going into the NBA finals with or without Kyrie Irving. Kyrie Irving may be the determining factor in winning the chip, but they won't need him to get to the finals," Stephen A. Smith mentioned on ESPN.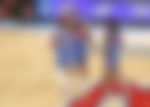 "All you need is for him not to be a distraction. I don't care whether he's a distraction or not. James Harden and Kevin Durant are going to the finals. I don't see anybody stopping them it's just that simple," he boldly expressed. 
Stephen A lauds the destructive duo in Harden and Durant
First things first, Stephen A is a huge fan of Kevin Durant. He loves watching the 'Slim Reaper' go about his business and there's no denying the fact that Durant is one of the best players ever. 
Stephen A praised Durant for an effortless come back into the league after sustaining a nasty Achilles injury during the 2019 Finals. "He's not a dude whose game is predicated on his athleticism. He's a sniper who's 6'11" with a 7'6" wingspan and ball-handling skills," the 53-year-old said. 
Smith then went on to state the facts and said: "There's nothing you can do to him in his sleep. He will average 25. Well, guess what, I was wrong. He's averaging 30 on 54% shooting and 48% from three-point range in his 10 in his first 10 games back from an Achilles tear after an 18-month layoff."
The renowned sports journalist then expressed his views on James Harden, as the former Rockets guard put on a show in his debut with the Nets. This urged Smith to assert that Harden will indeed propel Brooklyn to the title with his glittering play. 
ADVERTISEMENT
Article continues below this ad
"Harden with his ability to pass the ball, we're questioning his you know he dribbles the ball or whatever. Harden will pass, Harden will accumulate assists, and we know what he can do point-wise particularly one-on-one," Smith said. 
"Lord Admiral, Brooklyn going to the finals. That's what I learned," he exclaimed. 
ADVERTISEMENT
Article continues below this ad
There was such excitement in Stephen A Smith's voice, especially when talking about James Harden or Kevin Durant. They've just played one game together, but it has already cemented the fact that the team has been bolstered by Harden's arrival.