Nets' Kevin Durant Emulates LeBron James During Historic Playoff Performance Against Bucks
Published 06/16/2021, 12:23 AM EDT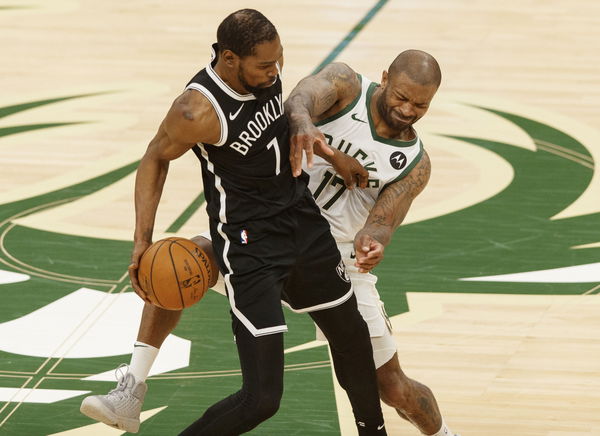 ---
---
The Brooklyn Nets faced off against the Milwaukee Bucks in game 5 of their second round playoff series. With guard Kyrie Irving out and James Harden still not at a 100%, the Nets hoped that their superstar Kevin Durant could carry the team and help them take the lead.
ADVERTISEMENT
Article continues below this ad
KD and the Nets certainly struggled in the first half of the game. Down 16 points at the end of the first half, the Nets looked in a whole lot of trouble. But Durant turned up the heat in the second half, as the Slim Reaper put up  31 points in the last two quarters of the game and ended the game with a monstrous stat line of 49 points, 17 rebounds and 10 assists.
ADVERTISEMENT
Article continues below this ad
With KD putting up a performance of a lifetime, the Nets made a massive comeback and ultimately won the game 114-109. They now are 3-2 up in the series and with Harden's improving health and Kyrie's probable return, they might be inching closer towards the conference finals.
Kevin Durant joins LeBron James in special playoff record
This performance was certainly one of a kind by Durant. While he has had some big nights in the playoffs, this certainly might be at the top given the all-round display the 2012 MVP showed.
Not only did he put up a 49 point triple double, he also joined LeBron James in becoming only the second player in the last three years to play all the minutes in a playoff game.
LBJ also played the 48 minutes in a must-win game against the Celtics. Playing in a game 7, LeBron was the lone star in his team with his co-star Kevin Love out with injury. But there was no stopping the King, as he put up 35 points, 15 rebounds and 9 assists and led his team to the NBA Finals.
ADVERTISEMENT
Article continues below this ad
This performance by Kevin Durant was pretty similar too. While he has had big games, Durant has often found a decent supporting cast every time. But tonight he had a hobbling James Harden playing beside him and a somewhat aging supporting cast.
But with his 49 point triple double, KD has certainly made a massive statement that he does not need a superstar supporting cast to defeat teams and that he can single-handedly embarrass the best of the best.
ADVERTISEMENT
Article continues below this ad
Coach Steve Nash will hope that Durant can carry on this excellent form for a pivotal game 6. Given that the Bucks will host this game, KD might have to pull off a trick or two upon his sleeve to clinch this series. Will KD and the Nets win game 6 and clinch the series?
Trending Stories