Brooklyn Nets' New Addition LaMarcus Aldridge Reveals How Kevin Durant Convinced Him To Join The Nets
Published 04/01/2021, 2:24 AM EDT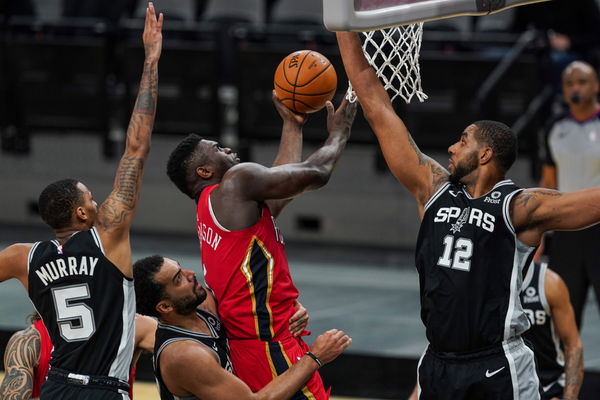 ---
---
Brooklyn Nets were one of the most active teams in the off-season, trading a superstar in James Harden. While the same trend didn't continue in the trade deadline, it certainly did in the buyout market.
ADVERTISEMENT
Article continues below this ad
The Nets pulled off one of the biggest moves in the buyout market as they signed veteran center, LaMarcus Aldridge. With Aldridge, the Nets now have a team stacked with multiple All-Star caliber players and are in the driver's seat to win the NBA championship.
The 7-time All-Star recently spoke to the media about signing with the Nets. Aldridge said, "Brooklyn made it known right away they were, you know, very interested."
While the team was understandably interested in Aldridge, the veteran center revealed how superstar Kevin Durant was crucial in convincing him.
He said, "KD hit me quick you know and said, 'definitely come here' and so just you know just waiting it out you know kind of you know weighing my options and then I just end up coming here you know it's a pretty good team and uh you know I think I can definitely help."
Brooklyn now have a pretty balanced roster. With a blend of experienced veterans and amazing young players and shooters, the Nets are the most feared side in the league.
What does LaMarcus Aldridge add to the Brooklyn Nets?
LaMarcus Aldridge might not be in his prime right now, but he is still a solid player in the league. He is seeing a massive dip in his production this season, only averaging 13.7 points, 4.5 rebounds, and 1.7 assists per game.
While it may seem that the 35-year-old has fallen off a cliff, his numbers from the last season suggest something else. Only a season ago, the veteran center averaged 18.9 points, 7.4 rebounds and 2.4 assists per game.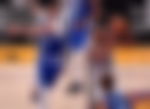 The current numbers might have been the result of the countless injuries Aldridge has suffered and the Spurs using Jakob Poeltl as the starter instead. In the Nets, Aldridge brings another offensive option to the team.
Although he might not be solid defensively, his offensive upside is surely a thing to look out for, especially given his talent to hit the mid-range shots. Come playoff time, a veteran like Aldridge can add some crucial points to the team.
The 7-time All-Star adds versatility to an already stacked front-court. Brooklyn just got better and more lethal with the veteran center's addition.