Brooklyn Nets: Patty Mills References Tokyo Olympics To Send a Kevin Durant Warning to the league
Published 09/30/2021, 10:30 AM EDT
---
---
The Brooklyn Nets haven't missed out on upgrading their roster this offseason too, just like their biggest rivals, the Los Angeles Lakers. These are the two teams that are at the top of the list of title contenders. However, with the Lakers also facing plenty of scrutinies, the Nets are trumping them when it comes to popularity. And their most recent addition, Patty Mills is incredibly thrilled to be playing next to Kevin Durant, after their brief encounter with each other during the Tokyo Olympics this year.
ADVERTISEMENT
Article continues below this ad
Why Patty Mills is looking forward to teaming up with Kevin Durant
ADVERTISEMENT
Article continues below this ad
After spending a decade of his career donning the San Antonio Spurs jersey, Patty Mills will be switching to the one of the Brooklyn Nets. During his time in free agency, Mills was in popular demand among franchises. In fact, he is more than clear about his goal at his new destination. Adding another NBA championship to his resume is all that's on his mind. Well, he seems to have come to the right place.
In a live interview of 'The Old Man and the Three', Mills spoke about his looking forward to playing with Kevin Durant. The two played against one another during the Olympics this year and now will be teammates. "It was unreal to be able to have the conversation with Kevin about coming to Brooklyn and just to understand how much of a pure hooper he is and talk basketball with him," Mills started off.
"It's good. It is the game. It's understanding how big the game has gotten around the world. But to be able to compete against him and others at that elite level on an international stage."
"Now, to bring that same mentality, that I had and I am sure, he had for our countries, now into the same locker room. That purpose and that driving force of what we're trying to do here and win another championship, it's exciting."
WATCH THIS STORY: From Rags to Riches: Kevin Durant, Allen Iverson & Other NBA Stars Who Turned Their Lives Around
Can Mills' bench role be vital to their run in the playoffs?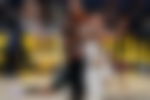 The way Mills performed for Australia in the Olympics was enough for the Nets to acquire him. But the question remains, will he be able to bring the same international energy to the 2021-22 NBA season? Because last season with the Spurs, he only averaged 10.8 points.
ADVERTISEMENT
Article continues below this ad
Whereas, when he played for the Aussies in the semifinals against Slovenia, he bagged 42 points, helping them win their first medal in medal in men's basketball. If he comes in with the same drive, he could unload a big burden off of James Harden, when needed.
Watch This Story
In fact, his perimeter shooting continued to stay on point throughout, which could work in Brooklyn's favor. Do you think he will be able to step up to these responsibilities?
ADVERTISEMENT
Article continues below this ad