Brooklyn Nets vs Milwaukee Bucks Playoffs: Doctor Details the Seriousness of James Harden's Hamstring Injury
Published 06/06/2021, 12:29 AM EDT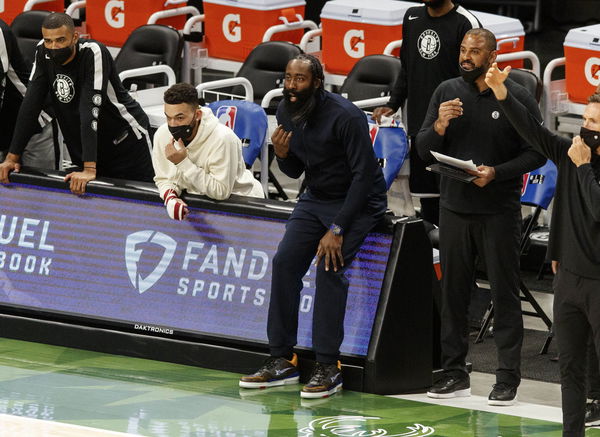 ---
---
Despite pulling of a win in their first game against the Milwaukee Bucks in the Eastern Conference Semifinals, the Brooklyn Nets faced an early blow as their star player James Harden sustained an injury. While the Brooklyn Nets' 117-105 victory might be a relief, it also means that there still be consequences further in the series if Harden ends up missing more games.
ADVERTISEMENT
Article continues below this ad
But before that, let's dive into everything that needs to be understood about this injury. From when it started, to what exactly it is and how it could be treated.
A better look at Harden's injury
ADVERTISEMENT
Article continues below this ad
It was back in March when Harden described a tightness in his right hamstring. However, the MRI came back negative which Dr. Jesse Morse explained usually means a Grade 1 or very mild injury.
Because if it was Grade 2, it would have meant there would be tissue damage that wouldn't allow James to play at all. Although Grade 3 is very rare, it is the most severe and could keep the player out for months.
However, Dr. Morse stated, "It was likely a Grade 1 but if you come back too quickly, it will re-injure the tissue. Because you're asking the tissue to do something that it's not ready to do yet. He returned and played on April 5th and sustained a re-injury likely because the tissue wasn't ready yet. At that point, it was at least a Grade 1, maybe a Grade 2."
"Grade 1 is not a lot of tissue damage but there is initial strain. A Grade 2 is a partial tear that comes with a lot of swelling, anytime you put your foot down  or try to stretch your leg, you're going to have pain. It comes with a lot of bruising and these usually take a good month to six weeks to really start to heal."
Dr. Morse then spoke about his return on May 12th after which he had on and off games. And tonight, Harden was ruled out for the remainder of the game because of it, once again. He emphasized on how the recovery can't be sped up at any cost.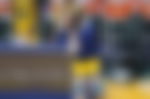 How did James Harden leave the game?
The first quarter of their match against the Milwaukee Bucks had just begun. Harden was going for the first drive of the game when he was seen walking out of the court afterward. While the Nets fans looked out for his return, he was then officially ruled out and didn't play the entire game.
Although his absence didn't affect the result at all and the Brooklyn Nets coasted a win, it doesn't mean they're going without him for the entire series.
ADVERTISEMENT
Article continues below this ad
A tremendous amount of credit for Brooklyn's success this season goes to Harden. If he isn't around, the Bucks have a far better chance at ascending to the next round.
So, how will the Nets go about this? Will they allow Harden to return before he is medically advised to? Or will they take a chance on playing without him and giving him the rest he needs?
There is a risk either way, but their decision can determine their shot at the title this season. What will it be?
ADVERTISEMENT
Article continues below this ad
WATCH THIS STORY: A Look at Michael Jordan's Hilarious Fail Moments