'Brotherhood Bond Nobody Could Ever Break': LeBron James Sends a Heartfelt Message for Carmelo Anthony
Published 05/30/2021, 1:44 AM EDT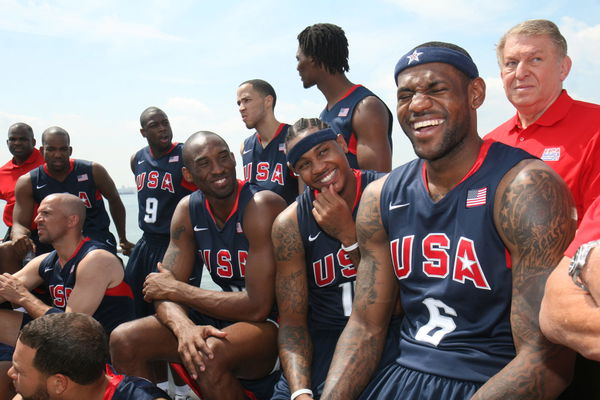 People around the world will remember the 2021 NBA Hall of Fame class as one of the greatest ever. Similarly, the NBA pundits call the 2003 NBA draft class the most effective lineup that defined the next two decades. LeBron James, Chris Bosh, Dwyane Wade, and Carmelo Anthony literally took the league by storm. 
Fortunately for Bron, he shared a great relationship with all the other three aforementioned names. He teamed up with two of them to form a killer Big Three that would win back-to-backs. However, the one remaining name, Melo, struck a whole different bond with the Akron Hammer.
LeBron James and his friendship with Carmelo Anthony
ADVERTISEMENT
Article continues below this ad
Both King James and Melo competed against one another during their high school days. LeBron from St. Mary High School (Ohio, Akron) and Carmelo from Oak Hill Academy (Mouth of Wilson, Virginia) played each other in 2002 before the NBA drafted them both in 2003. 
LeBron James (20.9 ppg) and Carmelo Anthony (21 ppg) stunned the league in their rookie season as the former won the ROY award.
Later, they played for Team USA in the Olympics and brought laurels to their nation. Plus, the two icons played with and against one another in NBA All-Star games as they kept switching teams. 
Recently, Sweet Melon turned 37 and the L-Train ensured he wished the big man. Bron took to Instagram and dropped a post that mentioned how some people (unnamed) tried to harm their relationship. Check out the entire message here – 
Last year, just as the Lakers routed the Blazers 4-1 in their Round 1 playoff series, Bron hugged Melo and showed him respect. That's the depth in the bond that they share even as forever on-court rivals. 
Watch this story – LeBron James vs Michael Jordan: Best Playoff Game-winning Shots
When the entire arena wished Melo a happy birthday
Melo is undoubtedly a highly respected figure in the basketball circuit and beyond. He is a 10-time NBA All-Star who is still a very dependable scorer for the Blazers.
It will not be surprising if the Blazers decide to retire the future Hall of Famer's #00 jersey in the coming years. The man is currently scoring 13.3 points in just 22.7 minutes that he is averaging. 
Recently, on his birthday, the entire Moda Center crowd sang him the jingle to wish him for the series and for life. The happy man scored 12 points and helped the Blazers equal the series 2-2 against the dangerous Nuggets.
ADVERTISEMENT
Article continues below this ad
If the Blazers are able to pull an upset in this series, Melo will again meet his old friend LeBron James in round 2 (given the Lakers beat the Suns).
ADVERTISEMENT
Article continues below this ad
Will the two friends will again meet as opponents in a playoff series? Help us know in the comments.