Bucks' Giannis Antetokounmpo States His Expectations on Khris Middleton
Published 12/26/2020, 1:29 PM EST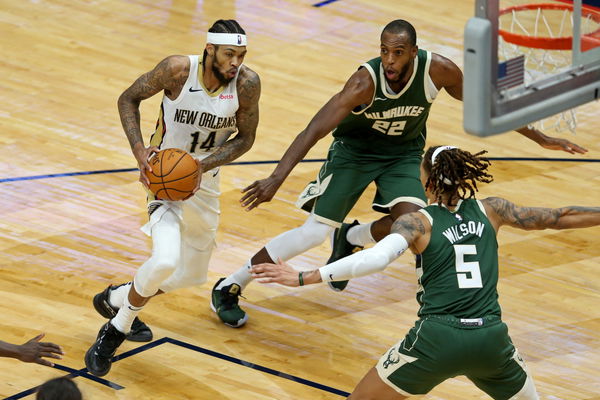 ---
---
The Milwaukee Bucks soared to victory in just their second-ever Christmas Day home game in franchise history. Khris Middleton led from the front with a 31-point performance, and Giannis Antetokounmpo was delighted with his teammate's contribution. 
ADVERTISEMENT
Article continues below this ad
Middleton torched the Golden State Warriors on Friday night and put up incredible numbers in 3 quarters. This took his total to 58 points from the first 2 games of the season. 
"[Middleton's] playing well, making shots. Played with high confidence, you know creating plays for others. It's good, we need this from him, we need him to do this all year long and he's feeling good and you know when Khris feels good, you gotta pass him the ball," said Antetokounmpo about Middleton. 
ADVERTISEMENT
Article continues below this ad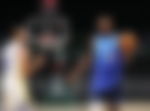 And right enough, Khris Middleton displayed terrific confidence on the court to inspire his teammates. Middleton finished with 6 threes in the game from just 8 attempts. Besides scoring, the forward was also instrumental in linking up plays between his teammates. 
"He's playing to get his own shot, but he's playing through everybody else. He's running to the corner he's getting easy looks so he's playing with a high confidence right now and this team really needs that," Antetokounmpo added. 
Giannis Antetokounmpo feels his Milwaukee Bucks teammate has vastly improved 
ADVERTISEMENT
Article continues below this ad
The Bucks are now a threatening team in the Eastern Conference, thanks to Giannis Antetokounmpo. But one should also credit Khris Middleton for staying loyal to the franchise and developing as a solid #2 in the team. 
Middleton's game has seen a vast improvement over the years, and the South Carolina native also earned his first All-Star game selection in 2018. He's been consistent with his numbers over the last four years, and Giannis has been a keen observer. 
"I believe [Middleton] could always pass and his handles were always there. But he's way better he's improving, he's getting older, he knows the game better and he takes his time so he's better," mentioned the two-time MVP. 
ADVERTISEMENT
Article continues below this ad
The Milwaukee Bucks currently have a 1-1 record to their 2021 campaign. There are challenging games ahead for the Bucks as they visit the New York Knicks next, followed by 2 road games against the Miami Heat.