'Bullsh*t': Warriors' Draymond Green Blasts Cleveland Cavaliers and NBA Over Andre Drummond Trade Situation
Published 02/16/2021, 6:15 AM EST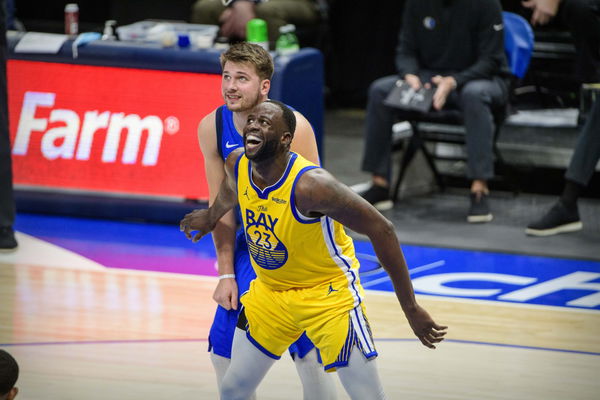 ---
---
Draymond Green went OFF on the Cavaliers and the entire NBA for the way they have treated players. After the Warriors' win over the Cavaliers, Green delivered a scathing rant addressing the treatment of players. He is unhappy with the disparity between the treatment of players and franchises.
ADVERTISEMENT
Article continues below this ad
Draymond Green critical of the NBA
Draymond Green addressed the Andre Drummond situation during the press conference. He is furious with the way Drummond is being treated by the Cavaliers as a whole. Green compared his situation with that of James Harden. He noted that Harden was criticized severely for demanding a trade from the Rockets, but the Cavaliers are not for publically stating their intentions.
ADVERTISEMENT
Article continues below this ad
"To watch Andre Drummond before the game sit on the sidelines and then go to the back and then come out in street clothes because the team is going to trade him is bulls**t. Because when James Harden asked for a trade and essentially dogged it… but he was castrated for wanting to go to a different team and everybody destroyed that man." 
Green added that the disparity between the treatment of the players and the teams is unfair. He brought up the situation of Harrison Barnes and DeMarcus Cousins finding out about their trade destinations in the worst circumstances.
"And yet a team can come out and say that 'hey, we want to trade a guy' and then that guy has to go and sit. And then if he doesn't stay professional, then he's a cancer.
"We've seen situations of Harrison Barnes getting pulled off the bench and DeMarcus Cousins finding out that he is traded in an interview after the All-Star game and we continue to let this happen." 
Players on the receiving end of major criticism
Draymond was critical of the situation at present. "But teams can come out and continue to say 'we're trading guys, we're not playing you'. And yet we're to stay professional. At some point as players, we need to be treated with the same respect and have the same rights that the team can have."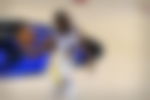 Green noted that players are at the mercy of the franchise. They get very little respect when they demand a trade. But if the franchise wishes to trade a player, that player must remain professional throughout. He brought up Anthony Davis' fine for demanding a trade publically.
"But a team can say they're trading you? And that has man has to stay in shape, he is to stay professional, and if not, his career is on the line. At some point, this league has to protect the players from embarrassment like that. Anthony Davis got fined $100,000 for demanding a trade publicly." 
Draymond Green pointing out the disparity in player treatment
ADVERTISEMENT
Article continues below this ad
Green reminded the NBA that they criticized Kyrie Irving for taking time off. He believes that a situation like Drummond's in Cleveland can be detrimental to the mental health of a player. But the league still expects players to display professionalism in these situations.
"But you can say Andre Drummond is getting traded publicly and we're looking to trade him publicly, and he is to stay professional? And just deal with it? And then when Kyrie Irving say my mental health is off, everybody goes crazy about that. So do you not think that affects someone mentally? 
ADVERTISEMENT
Article continues below this ad
Is Draymond Green right about how the league treated players? Frustrations between players and the NBA boiled over on several occasions this year. Lakers' LeBron James was unhappy after the league backtracked on the decision to hold an All-Star game. Furthermore, the NBA has continuously made decisions that players are unhappy with through the course of the year.