Business Partner Arnold Schwarzenegger Bearing With Freezing Cold Temperatures to Promote Multi-Million Dollar Co. Even Draws LeBron James' Attention
Published 01/24/2023, 11:43 PM EST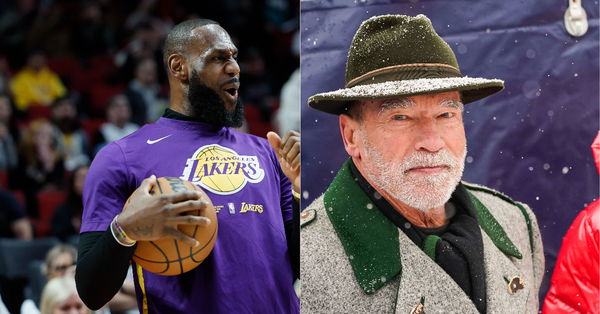 Los Angeles Lakers great LeBron James has proved his excellence not only on the court but also with his business plans and ideas off the court. Apart from his business with Nike, James is part of other businesses too. The four-time NBA champion has brought in various famous business partners to promote his brands. One such investor is the former Mr. Universe himself, Arnold Schwarzenegger. 
The American-Austrian bodybuilder is a business partner of the 6'9″ forward. In a recent story on Instagram, James shared a picture of Schwarzenegger, appreciating his efforts to promote the brand even in freezing cold temperatures. 
LeBron James appreciates Arnold Schwarzenegger for his efforts
ADVERTISEMENT
Article continues below this ad
Lobos 1707, a tequila company introduced in November 2020, with James as one of the early backers and Schwarzenegger as an investor, has made great improvements in just less than two years. James has had a great interest in wines and tequilas. The founder of Lobos 1707, Diego Osorio had met James through a mutual friend in 2020. Ever since James has been promoting the brand through stories and posts on Instagram. 
On one such occasion, James recently shared a picture of Arnold Schwarzenegger with Osorio, standing in winter jackets as snow fell around them while promoting the tequila. Adding to the group of investors in 2021, Arnold Schwarzenegger has played a huge role in promoting the brand worldwide.
ADVERTISEMENT
Article continues below this ad
In his interaction with the magazine 'The Spirit Business', Schwarzenegger said, "I have a very clear vision of you guys selling by next year 100,000 cases of Tequila. This is the new vision guys, this is the new goal, we've got to shoot for that". The veteran bodybuilder has immense belief in the brand, as he further added, "I'm wholeheartedly supportive and believe limitlessly in the brand and the team behind it. I want to see Lobos 1707 win and become the Tequila and mezcal of choice with consumers.".
Other NBA stars who are a part of the Lobos 1707 brand
Apart from the 18-time All-Star, the Golden State Warriors forward Draymond Green and Lakers center Anthony Davis are also a part of the brand. James played a crucial role by bringing both NBA stars into the business. Notably, Anthony Davis has joined as a sponsor of the brand. 
ADVERTISEMENT
Article continues below this ad
Watch this Story: "LeBron James sipped champagne and vodka all night alongside Katy Perry in crazy Bahamas party in 2010"
Draymond Green, after the USA's win against France in the 2020 Tokyo Olympics, did not fail to promote the brand. The Warriors forward celebrated the victory with the entire team by opening a Lobos bottle.