"But He's Basically a 6'2 Shooting Guard": LeBron James' Son Bronny Given Stark Reality Check to Become 'Above Average' Before Huge Decision
Published 03/13/2023, 8:30 AM EDT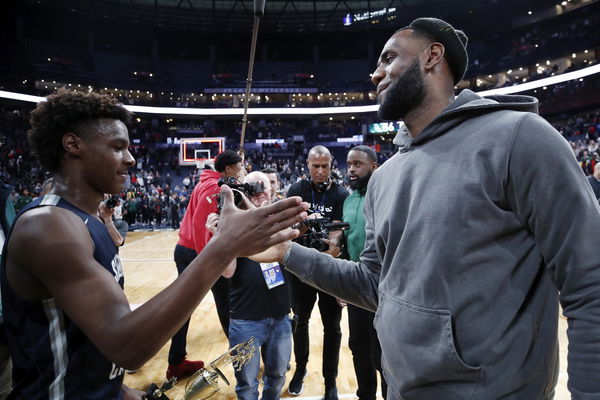 Bronny James has received multiple college offers and is more likely to take the college route instead of overseas basketball or the G-League during his gap year. It is no secret that LeBron James wants to play alongside his son in the NBA. However, there have been doubts about Bronny's potential. Many believe that Bronny would not make it to the league if he was not LeBron's son. Amidst this, ESPN recently projected Bronny to go as high as pick #10 in the 2024 draft. However, some are still not convinced.
Recently, On3 recruits named Bronny James as a five-star college recruit and also ranked him #9 on the list of best high school basketball players in the country. Shortly after, Bill Simmons revealed his honest doubt about the young shooting guard.
Bill Simmons' criticism of Bronny James
ADVERTISEMENT
Article continues below this ad
Bill Simmons recently made an appearance on the One Shining Podcast with Tate Frazier. In one instance, the senior sports writer talked about Bronny James. According to a report from Its Game 7, Simmons said, "Right now, from what I've seen, he's definitely athletic, he's a very good defensive player, he seems like he'd be fun to play with, but he's basically a 6'2″ shooting guard."
Even though he praised Bronny for his abilities, he expressed that the young star needs to be excellent at something, for example, shooting or defense, while playing at the highest level of competition.
He added, "You know at some point, if you're at the highest, highest level, you've got to bring some awesome thing to the table if you're going to be an above-average starter."
Simmons also noted that the amount of pressure and expectation that is being put on the teenager is not a good thing as well. He made it clear that Bronny needs to be exemplary at one thing or the other on the court and concluded by reiterating that he just looks like a "6'2" shooting guard".
ADVERTISEMENT
Article continues below this ad
Bronny's display with LeBron James in the stands
Bronny James recently silenced his critics during a playoff game where rival fans chanted "Daddy's boy" when he was shooting free throws. Interestingly, LeBron James and his family were also in attendance to watch the game. Bronny answered back with a team-high 16 points and led the Sierra Canyon Trail Blazers to the win. Bronny and LeBron's fans will be hoping that the teenager continues his development and silences the latest criticism of Bill Simmons with his performances.
WATCH THIS STORY – All records held by Christmas day games 'King' LeBron James
ADVERTISEMENT
Article continues below this ad
Bronny's high school career recently came to an end after a loss at the Regional Finals against rivals Notre Dame. With this, the Trail Blazers fell one step short of reaching the Division-I state championship.
What do you think about Bill Simmons' criticism of Bronny James? Let us know in the comments.
Edited By: Jayant Chhabra