Cade Cunningham Reveals Why Was He Impressed With the Pistons Despite Their Dismal 2020-21 Season
Published 07/24/2021, 10:24 AM EDT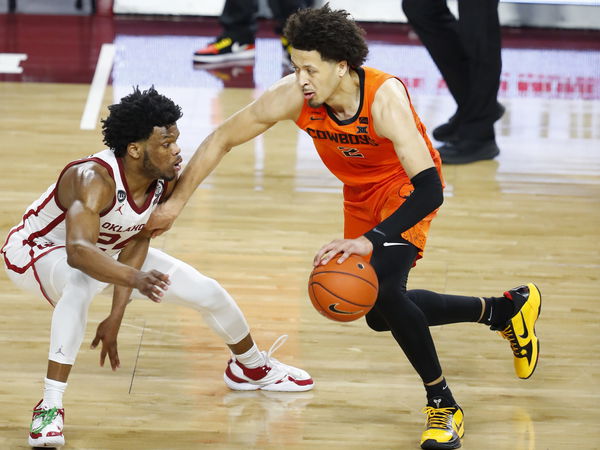 ---
---
The 2021 NBA draft is full with probable franchise cornerstones with the likes of Cade Cunningham and Jalen Green to name a few. Teams like the Detroit Pistons were certainly the biggest winners ahead of the draft.
ADVERTISEMENT
Article continues below this ad
Ending up with one of the worst records in the NBA, the Pistons had one of the best odds to win the draft lottery. While teams like OKC dropped, the Pistons stayed in the top four and ended up having the crucial number one pick which they can use to bring in a possible franchise cornerstone.
ADVERTISEMENT
Article continues below this ad
Cade Cunningham explains why he is impressed with the Pistons
The Pistons certainly had a season to forget. Despite landing Nuggets' forward Jerami Grant, Detroit had a poor start to the season. While they started off with the likes of Blake Griffin and Derrick Rose in their team, by the end of the trade deadline, both their former All-Stars were gone.
Playing with multiple rookies like Isaiah Stewart and Saddiq Bey, the Pistons ended up with the second worst record with 20 wins and 52 losses. But consensus number one pick Cade Cunningham was impressed by the team's performance last season.
In an interview with Rookie Wire, Cunningham explained why he thinks the Pistons will be beneficial for him. "Isaiah Stewart and Saddiq Bey were both All-Rookie team. I feel like that is a direct correlation of what that staff is doing with their players and the amount of time they have put into development. That's a good indication in itself and is something I like to see."
ADVERTISEMENT
Article continues below this ad
"The young core, obviously, they didn't have the season they wanted to last year but there are a lot of things to build off of. I learned a lot on my visit and just doing research after the lottery."
The Pistons are certainly headed in the right direction. With exciting rookies like Saddiq Bey, Isaiah Stewart and Killian Hayes, the rookie core of Pistons looks set. Cunningham seems to be the perfect fit for the team.
ADVERTISEMENT
Article continues below this ad
A 6'8″ guard, the 19-year-old can play in multiple positions. Cunningham has also shown excellent ability of scoring and distributing the basketball. If he is anywhere as dominant as he was in college, the Pistons will be all set for the future. Will the Pistons draft Cade Cunningham?
WATCH STORY HERE – Injuries That James Harden Has Powered Through Over The Years of his Career