'Calling His Phone': Former Lakers Champion Reveals How He Dealt with the Loss of Kobe Bryant
Published 04/26/2021, 10:30 PM EDT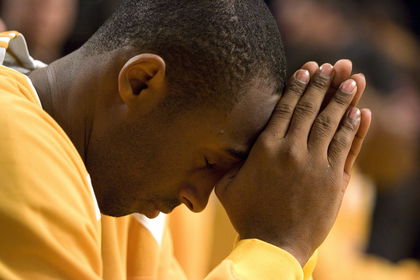 ---
---
The day of January 26, 2020, went down as one of the darkest days in the history of world sports. Headlined by the death of Lakers' Kobe Bryant, this day saw the fatal crash that consumed the potential future stars of the WNBA too. Needless to say, it was a terrible time for the people close to the Black Mamba.
ADVERTISEMENT
Article continues below this ad
Among those most heavily affected was KB's longtime teammate Lamar Odom. It was as hard as it gets for the 1999-00 All-Rookie to swallow the tragic news. So how did he respond to the unbelievably heartbreaking news?
Lamar Odom and his tale of dealing with the loss
ADVERTISEMENT
Article continues below this ad
In a recent interview, the 41-YO retired NBA player revealed his initial reaction to the tragedy. He took pauses as he spoke and sadly expressed, "It took me some time to even really accept it… I would be calling his phone weeks after it happened, just text him. He was special to me beyond basketball. His thought process, he was an extreme leader, he led in a different way." 
The Black Mamba had a tremendous impact on Lamar's career. The Package spent almost his entire playing career in LA, hopping between the Clippers and the Lakers. He joined Kobe's side in 2004 and started every game for the Lakers in his first four seasons with them. Certainly, KB's leadership helped him stretch as a better power forward. 
In the same interview, Lamar counted the names of the other players Kobe helped. He said, "People talk about what an incredible basketball player he was, but what about a father, right? Trying to teach all these young guys coming behind him, Donovan Mitchell, Jayson Tatum. You could all see these dudes coming… they got to experience, put that Mamba Mentality into what they going through, he was just getting started… He could've been an incredible coach, girls' coach, women's coach. Pick his basketball brains."
Read also – Lakers Legend Kareem Abdul Jabbar Reveals What Affected Him the Most After Kobe Bryant's Death
When Kobe Bryant visited his Lakers teammate in the hospital
Back in October 2015, Kobe Bryant was beginning his final season with the Lakers while Lamar Odom had already retired two years back. Suddenly, news broke out that Odom had been found unresponsive. Just as the situation got worse, and it turned out that the 6'10" Package was fighting for his life, Kobe Bryant left the scrimmage to visit Lamar in the hospital.
Jackson: "I'm sure it was a joy to the family that Kobe stopped by to spend some time with him last night. That's a good little story."

— Bill Oram (@billoram) October 14, 2015
Crazy night. I'm told Lakers had 2 hour delay on their flight amid Lamar Odom's situation. Kobe and Mitch among those who visited him

— Mark Medina (@MarkG_Medina) October 14, 2015
ADVERTISEMENT
Article continues below this ad
The Black Mamba was in Vegas for a preseason game against the Kings. He chose not to address the media and left MGM to rush towards Sunrise Hospital, where Lamar was struggling with his health. 
When Kobe passed away, Lamar did not just lose a man who helped him win two rings, but also a friend who would leave everything to help his teammate.
ADVERTISEMENT
Article continues below this ad