'Came in Real Arrogant': Gary Payton Explains Why NBA Veterans Hated Rookie Kobe Bryant
Published 05/12/2021, 3:59 AM EDT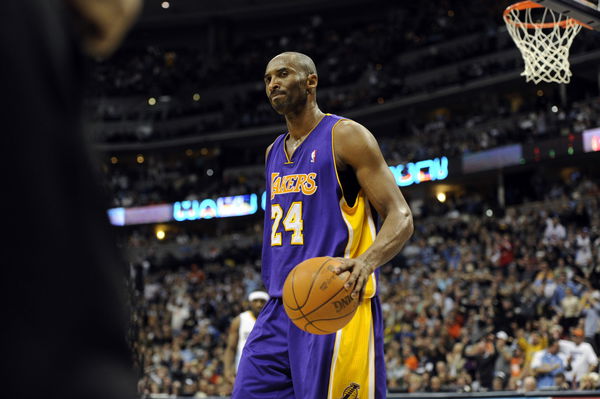 ---
---
Late Lakers' legend Kobe Bryant was arguably one of the best shooting guards the game has ever seen. In his 20-year career, Bryant had five championships with two finals MVPs and multiple All-Star appearances.
Not only did he dominate the game in his career, but he was also one of the most respected players in the league. Be it his ultra competitiveness or his ability to mentor younger players, Bryant became a must in GOAT conversations.
Gary Payton explains why Kobe Bryant was disliked initially by veterans
While the Mamba might have left his mark on the game, in his early days in the NBA, Kobe was by no means the most liked player in the league. Coming straight out of high school, Kobe exuded immense confidence as an 18-year-old rookie.
But not everyone was a fan of the rookie guard. Former teammate and Hall of Famer, Gary Payton, recently explained why some NBA veterans disliked Kobe.
In an interview with insider Scoop B Robinson, the Glove said, "Kobe came in real arrogant. He was a high school kid coming in there talking about he gonna be the greatest, he's gonna be one of the greatest basketball players. When he went to the Lakers, it started off when he forced Charlotte to trade… to the Lakers, so it is what it was, man… Them OGs was like, Man, who does this kid think he is, making people do this and that.'… So I just say, yeah, a lot of people were really against him, because of how he acted, but I loved it. He had an attitude, he had a dog to it."
While Kobe did end up with an amazing career, his rookie season was not as smooth sailing. As an 18-year-old, Kobe only played 15.5 minutes per game and averaged 7.6 points, 1.3 assists, and 1.9 rebounds per game.
But eventually, Kobe found his footing in the league. Coming off the bench in his second season in the league, Kobe took a massive leap and flourished in the increased minutes he was granted in that season. Averaging 15.4 points, 3.1 rebounds, and 2.5 assists per game, Bryant proved that he could be in the starting five for the Purple and Gold.
After he became the starter for the Lake show, there was no turning back. He replaced Eddie Jones and started putting up great numbers, perfectly complementing Shaquille O'Neal. After a 20-year stint and five championships later, it is safe to say that Bryant indeed was one of the best players the franchise had ever seen.