'Can Certainly So Injure the MCL': Doctor Breaks Down LeBron James Terrifying Ankle Injury
Published 03/21/2021, 3:55 PM EDT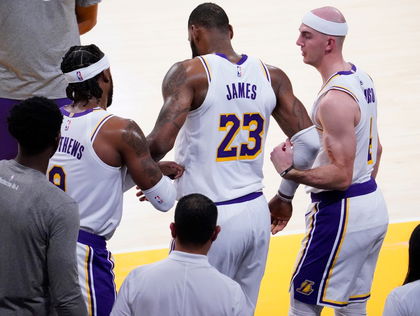 ---
---
Los Angeles Lakers' superstar LeBron James is one of the most durable basketball players. He might have played 18 seasons in the NBA but has rarely suffered any injuries. But whenever he does, the consequences are massive.
ADVERTISEMENT
Article continues below this ad
Playing against the Atlanta Hawks, James suffered a terrible injury to his right ankle. The 36-year-old was understandably in a lot of pain and was even screaming on the court in anguish. Given James' reaction, there are serious concerns about his return to full fitness.
Doctor details LeBron James' ankle injury
ADVERTISEMENT
Article continues below this ad
This was the first major injury James suffered in the last 2 years. The previous major injury LBJ suffered was the groin injury where he missed more than half of the 2018-19 season.
Given the severity of Bron's reaction, doctor Brian Sutterer recently analyzed his injury. Sutterer described how James' injury was unique in a way.
He said, "Of course number one, we're going to call this a valgus force because it's a force that's pushing his knee inward. And then when that happens, it's going to put some stress on his knee, which we'll talk about in a minute.
"But number one causes this primarily eversion mechanism of an injury to his right ankle. This is an example of an eversion ankle sprain compared to the classic inversion ankle sprain that we see much more commonly."
He added, "So this is definitely a unique situation with an eversion, ankle sprain, that inner portion of the ankle and the foot are going to come down towards the ground as opposed to with an inversion, it's going to be the outer portion of the ankle, that's going to get stressed."
Although ankle injuries are pretty common in the NBA, the severity of it certainly differs from player to player.
One of the biggest players who had seen his prime cut short with multiple ankle injuries was Grant Hill. Given the massive impact such ankle injuries can have, LeBron should not rush through the process of recovery and focus on getting healthy before the postseason.
Possibility of an MCL injury for James
Sutterer also opened up about why there is a possibility of a potential MCL injury for 'King James.' "The other thing to watch here, too with the bronze ankle is it does look like there's a little bit of external rotation of his foot.
"If we look at the alignment of his tibia, his lower leg, it's kind of pointed straight at us.
"And then his right foot is pointed off to the side. So that's going to be that external rotation, which can have more implications for something known as a high ankle sprain."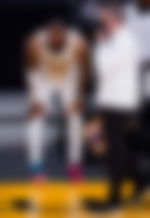 He added, "Now I mentioned the knee because as we go through this whole sequence, remember that defender came in and the first contact was that valgus load onto the bronze knee.
"This type of an injury can certainly also injure the MCL, which is going to be that ligament that sits here on the inside of the knee."
ADVERTISEMENT
Article continues below this ad
LeBron James' recent injury is certainly a colossal blow to the Lakers. The Lakers are already missing some key players in Marc Gasol and Anthony Davis. So this is probably the worst time for an injury like that to plague their talisman.
One plus point from this could be for players like Dennis Schroder and Kyle Kuzma who may receive an opportunity to prove their worth.
Given the reduced role they have had, this could be the perfect opportunity to take over some games and lead the champions. Even young star Talen Horton Tucker will enjoy extended minutes on the side with LeBron on the sidelines.
ADVERTISEMENT
Article continues below this ad
LBJ is undoubtedly the most important player for the champions. Come playoff time, it's players like James and Davis who make the difference. The champions will hope that James finds his way out of this injury conundrum soon enough.