Can Christian Wood Become the Third Star Alongside James Harden and John Wall for Houston Rockets?
Published 01/02/2021, 8:05 PM EST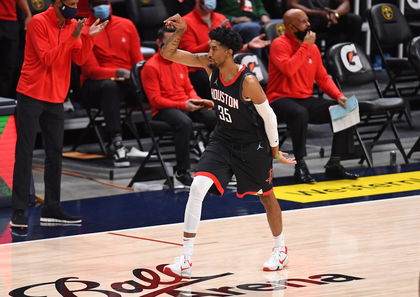 ---
---
The Houston Rockets comfortably defeated the Sacramento Kings in their Saturday night matchup. In the absence of their superstar James Harden, both John Wall and Christian Wood carried the team on their backs. While Wall is already an established star in the league, can Christian Wood become the next big thing for the Rockets?
ADVERTISEMENT
Article continues below this ad
In their fixture against the Kings, Wood looked like a veteran on the floor. He finished the game with a solid double-double, scoring 20 points while pulling down 15 boards.
Following this performance, he is now averaging 23.8 points per game this season and looks like a legitimate 3rd star alongside Harden and Wall.
ADVERTISEMENT
Article continues below this ad
However, the journey to excellence was not a cakewalk for the 25-year-old. Before becoming the star he is today, Wood struggled to find a home in the league. In fact, he went undrafted in the 2015 NBA draft.
It was not until 2019 that he finally made some noise with the Detroit Pistons. At the time, the Pistons had recently traded away Andre Drummond to the Cavaliers and were in dire need of a solid center. Wood stepped up and impressed many teams around the league.
Fortunately, the Rockets were among those teams and acquired him this offseason. But the question remains, can he continue this form and help the Rockets make a deep playoff run this year?
Christian Wood – a third star for the Houston Rockets?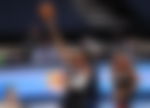 Following the James Harden trade request, Houston is doing everything in their power to convince the former MVP to stay. Bringing in Christian Wood was part of the same process. Furthermore, this new trio of Harden, Wall, and Wood is capable of great things.
ADVERTISEMENT
Article continues below this ad
For instance, if Harden decides to stay at bay, the trio can become a nightmare for any opponent. Once Harden is healthy again, he and Wall can handle the majority of scoring duties and can use Wood as the X-factor for the team.
Additionally, with his towering stature, he brings rims protection, which the Rockets are in dire need of. Keeping everything in mind, Wood's development is definitely one of the best things that could have happened for the Rockets.
ADVERTISEMENT
Article continues below this ad
But what are your views on him? Let us know in the comments section down below.