'Can Do Everything': NBA Analyst Argues How Sixers' Joel Embiid is a Better Center Piece Than Shaquille O'Neal
Published 03/03/2021, 10:21 PM EST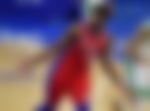 ---
---
If anybody ever doubted Joel Embiid, his clutch three against the Utah Jazz to equalize the score 118-118 and force a winning OT proved them wrong. Notably, he has been giving such clutch performances quite consistently in the 2020-21 season. 
ADVERTISEMENT
Article continues below this ad
The Sixers are producing the results that they last produced 20 years ago in 2000-01 when they had a 68.3 W% in the regular season. During those years, a center player named Shaquille O'Neal (Lakers) was taking the league by storm. Fast forward to the present day, the Sixers have found their own Shaq.
Is Joel Embiid more skilled than Shaquille O'Neal?
ADVERTISEMENT
Article continues below this ad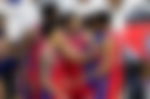 Until last year, no one thought the Sixers could go deep into the postseason. But this time, the conversation is that they can pose a big threat to the Bucks and the Nets in the EC Finals.
What changed for them? The answer lies in the improvement and sharpness that Joel Embiid has shown while playing for a new coach in Doc Rivers.
In an interview, celebrated NBA Analyst Max Kellerman compared Embiid and Shaquille O'Neal on the scale of skill sets. He expressed, "In terms of their dominance in the paint, no one ever was as dominant. If they got the ball down low than Shaquille O'Neal. But Embiid in this NBA in particular is also impossible. He's a legit 7-footer, 250, wide-body, and he's in shape now. So, down low skills are there and he's shooting fewer threes, and he's more down in the paint than before and as a result, he's at the line more than ever. He's shooting 86% free throws, much better than Shaquille O'Neal. And even though he's shooting fewer threes… he's hitting them 40% or even better." 
The Process is averaging close to 30 points, 11.3 rebounds, 3.3 assists, 1.2 steals, and 1.3 blocks this season. Plus, he is shooting a career-high 41.7% three-pointers while attempting a career-low 2.9 threes per game. This shows how much he is willing to enter the paint and draw fouls.
Can The Process help the Sixers attain the success that the Lakers achieved with Shaq?
One must note that the numbers that Joel is generating are the same numbers that Shaquille O'Neal recorded more consistently for over a decade. Plus, he also helped the Lakers win three back-to-back titles with Kobe Bryant as his main guy.
ADVERTISEMENT
Article continues below this ad
Can Joel do it for the Sixers? The closest that Joel could take his team is reaching consecutive conference semis from 2017 to 2019. However, this time around, after taking note of his recent 40-point double-double against Utah Jazz, a turnaround is possible. 
As Max further added, "The difference primarily between Shaq and Embiid in terms of all-around skill is Embiid can shoot. In fact, there's never been in the history of the NBA, a 7-footer, not a power forward, a center who can play with his back to the basket like Embiid. I'm cheating a little because Duncan and Elijah were shorter, Embiid can do everything you want a center to do."
Joel has some great pieces in Danny Green, Seth Curry, Tobias Harris, and Ben Simmons to support him. All that, with the expertise and experience of coach Doc Rivers, has already helped them take the top position before the All-star break. So it is surprising to believe they can reach the NBA Finals this time.
ADVERTISEMENT
Article continues below this ad
Read Also – Metta World Peace Explains How Joel Embiid & Marc Gasol Saved the Center Position in NBA