'Can I Have This Dance Kyrie?': Kings' Rookie Details Funny Tale About James Harden and Kyrie Irving
Published 02/27/2021, 12:00 AM EST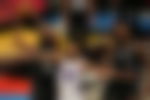 ---
---
Brooklyn Nets are arguably the scariest team on the floor today. Apart from James Harden and the old Nets duo, they are laden with some fine rotation players and also boast a decent coach. They are on an eight-game win streak, and it's only about time when they take over the Sixers as the conference topper.
ADVERTISEMENT
Article continues below this ad
So, what is it like to play against such an established and ammunition-rich squad? Well, intimidating and overwhelming can be two words to sum it up. But for a rookie who is just a couple of months old in the league, the words can be scary and brutal.
From the lens of a rookie, how tough is playing the Brooklyn Nets?
ADVERTISEMENT
Article continues below this ad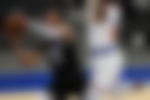 The 20-YO from Oshkosh North High School, Tyrese Haliburton, was the #12 pick in the NBA Drafts 2020. Sacramento Kings had their eyes on Tyrese right from the beginning, and they were very fortunate to lock the young prodigy.
The left-shooting point guard has impressed everyone with his offensive skills, but something caught him off-guard early in his career. 
He played his first game against the Nets on February 15th and took home some hard lessons. In an interview with JJ Redick, the youngster revealed,
"We played Brooklyn during their west-coast trip, no KD. So, I don't know what I expected going into the game. I was like 'we get to play against Kyrie and James today'. But man, from the beginning, it was like non-stop, bucket-bucket, iso, bucket-bucket. They're getting to whatever they wanted to get to. It's crazy, the biggest one for me so far is like transition, Kyrie's coming down, and I'm the first one back, so I gotta check him. He like, takes it, backs up, gets in the iso package boom, hit 100 moves, steps back into three. As he lets it go, James yells over 'can I have this dance Kyrie' and he goes nothing but that. I'm like, 'Oh my god', let's get back on offense, this is ridiculous, that was insane."
His night of guarding the Nets duo even in the absence of Kevin Durant had been a harrowing learning experience. One can sense the helplessness in his words just as he speaks, and that's what a world-class offense can do.
What makes James Harden & Kyrie Irving so lethal and unguardable?
Tyrese is averaging 13.2 points, 3.6 rebs, 5.4 assists, and 1.4 steals every night at 43.3% three-point accuracy himself. So he definitely has a great ceiling, and for him to struggle so much against the Nets' stars speaks volumes about their dominance. Plus, he also saw his own team's vets like Harrison Barnes and Buddy Hield struggling to put numbers.
ADVERTISEMENT
Article continues below this ad
As the rising star wisely put, "No matter the scheme, whatever we're doing, yeah let's work to get the ball out of his hands, deny him… he's going to find a way to get the ball and find his spots, it's just up to them if they can make it or not. You can make it tough but they're still going to get their 25-a-night."
The aforementioned dominance forces the Nets' opponents to redirect from a 'defensive' mindset to 'hoping for a mistake' mindset. Notably, the Kings lost both their matches against the Nets.
The first one saw Kyrie Irving dropping 40 points and The Beard scoring a triple-double. The next one saw James Harden again producing the same result and cutting short any effort by the Kings unit. The Kings are now 13-20 and still trying to find a winning streak.
ADVERTISEMENT
Article continues below this ad
Read Also – Kings' Coach Compares Giannis Antetokounmpo to Steve Nash After Milwaukee Bucks' Blowout Victory