'Can't Just Take Him Off': Former Basketball Coach Unsure if Lakers Can Win in Anthony Davis' Absence
Published 05/31/2021, 9:40 PM EDT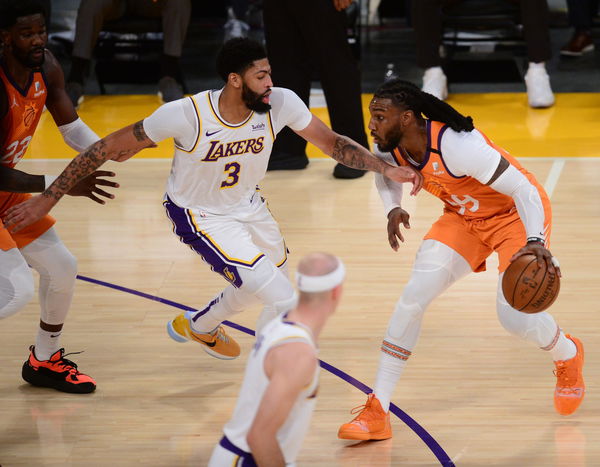 ---
---
Both the LA-based franchises, the Lakers and the Clippers, are 2-2 in their playoff run. However, the former is at a huge disadvantage because they have Anthony Davis injured and no home-court advantage for the upcoming games. 
ADVERTISEMENT
Article continues below this ad
This season has been nothing short of a roller coaster ride for the Lakers. They started on a high note but saw their star duo sitting out for an extended period due to injuries. But they made a strong comeback as the squad closed the regular season with a five-game win streak and then a sixth victory against the Warriors. 
Can the Lakers pass this test without Anthony Davis?
ADVERTISEMENT
Article continues below this ad
On February 14, Anthony Davis injured his Achilles playing against the Nuggets. Post that, he missed 30 straight games to take the time to ensure a 100% recovery. After he came back, he complained of knee soreness in the last week and had been on the Lakers' injury list from Game 2 itself. But it wasn't until he hit the floor in Game 4 that the star had to finally sit out.
In a recent interview, NBA reporter Dave McMenamin found some positivity in this troublesome hour for the Lakers. He backed the solo show of King James and detailed:
"Lakers can keep their head above water so long as they have LeBron even when there's no AD. They went 11-7 during the regular season when that happened. And going back in the archives, Frank Vogel knows all about being on the receiving end of LeBron's one-man dominance in the playoffs… A Lakers source told me, 'any AD is better than no AD'. But if you want more historical context while LeBron's equipped for this moment even if Davis can't go, consider his 14-0 record all-time in first round of playoff series. Phoenix is facing perfection."
Read also – LeBron James and Jae Crowder: A Timeline of Their Relationship
Who will come to the rescue in the absence of AD?
After Game 4, a confident LeBron James had said that they would have the next man up to replace AD if the need arose. However, it will be impossible for them to find a defensive replacement for The Brow.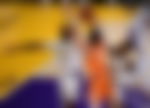 Former college basketball coach Seth Greenberg added, "His ability to protect the rim, contest shots, he's one of the top five players in the NBA. You can't just take him off the team and expect to be the same basketball team."
He also rightly pointed out how even Kentavious Caldwell-Pope is questionable to play because of his quad injury. KCP's absence won't affect the offense as much as it will inflict harm on the team's defense. 
ADVERTISEMENT
Article continues below this ad
The 65-YO retired coach further expressed, "Anthony Davis takes pressure off LeBron James. How many times he has got to the line in the Lakers' win? Why, because he catches, and he rips, he attacks, he puts pressure on the defense… Where is Montrezl Harrell? The guy who won 6 MOY a year ago, now he can't enter the game. Harrell and Gasol need to play. Gasol because if LeBron is going to play big minutes and be aggressive, you've got to open up the floor." 
Greenberg has a point because the Suns oftentimes double-team AD and that allows some breathing space for LeBron. Plus, Gasol's passing ability can come in handy with floor spacing if Kyle Kuzma picks up his scoring to help the side along with bench leader Montrezl Harrell. 
ADVERTISEMENT
Article continues below this ad
Do you see the Lakers taking Game 5? 
Watch this story – Top Scoring Games of Lakers Legend Kobe Bryant