'Can't Relax': Dallas Mavericks' Center Player Reveals Luka Doncic's Level of Demand from His Teammates
Published 02/18/2021, 12:00 AM EST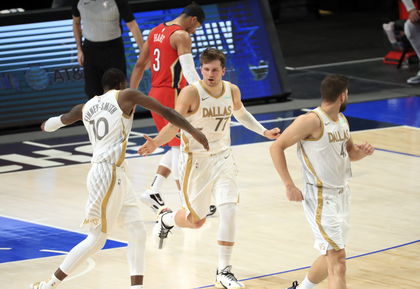 ---
---
The Dallas Mavericks are having a mixed season where they're going back-and-forth between streaks of losing and winning. Luka Doncic is carrying their flag high and is performing every single night, whatever be the end result. 
ADVERTISEMENT
Article continues below this ad
The 2019 NBA Rookie of the Year Luka Doncic has given several 40-point performances this season that have helped the Mavs win against big rosters. But apart from his scoring, how else does this man impact the order of the game? Boban Marjanovic has the answer.
Luka Doncic and his high level of expectations
ADVERTISEMENT
Article continues below this ad
The team's star center, Boban Marjanovic, joined the Mavs in 2019, a year after the Hawks picked Luka at #3 and traded him to the Mavs. Boban entered the team on a $7 million 2-year contract and promised some dominance inside the paint. After spending two seasons on the team and sharing the court with the game's most promising star, Boban has built some insight for his younger teammate.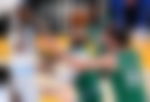 In a TIME 100 Next post, Boban wrote, "You can't relax on the court with Luka Doncic. Even if you're not open, he can make Luka magic at any moment—throwing a perfect pass that somehow lands in your hands. Every game, he debuts a new move. It's crazy. He's just 21, but he has already made an all-NBA First Team and is set to earn many more honors." 
Luka keeps his teammates on their toes and always finds unique ways to penetrate through the defense. His creative approach to the game makes him unpredictable, and Boban just put his stamp of approval on this.
Boban further wrote about Luka, "I see his competitive drive off court: even playing Parcheesi, he wants to win. But he always wins while smiling. I see the influence he carries. Before the pandemic, kids would crowd arenas and team hotels, hoping to see him. And he always made time to sign autographs, to share that Luka magic with the world."
So Luka has that MVP potential to push everyone around him to be better.
How is Boban Marjanovic performing for the Mavericks unit?
ADVERTISEMENT
Article continues below this ad
Bobi has never really been a starter in his career. In the last five years, he has started in only 22 games and that didn't change with Mavs, who already have Kristaps Porzingis as a very prolific center. Stabbed by some knee injuries, Boban has seen a sharp downfall in his playing minutes over the last couple of years.
Boban used to be a powerful force from inside the restricted area, but he has been pretty low on those numbers in the last few seasons. Still, Rick Carlisle is ensuring he makes use of Boban whenever the playing strategy allows. As of now, the Mavs are back on track with their bench in Tim Hardaway and Jalen Brunson rising to perform.
Do you think the Mavs can become a Top 5 team in their conference? Help us know in the comment.
ADVERTISEMENT
Article continues below this ad
Also recommended – WATCH: Warriors Guard Brands Luka Doncic a 'Little A** Boy' After Getting an And-1 On him