Carmelo Anthony Sheds Light on Not Teaming Up with LeBron James and Dwyane Wade a Decade Ago
Published 02/27/2021, 9:30 PM EST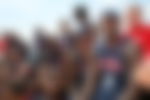 ---
---
Today, the NBA is more about super teams than about an individual leading a squad to glory. LeBron James' move to Miami Heat, Kevin Durant's contract with GSW, and now James Harden playing for Brooklyn Nets are the best examples. But in the past, there were more players like Giannis Antetokounmpo who would stick to their unit.
ADVERTISEMENT
Article continues below this ad
Carmelo Anthony, more or less, was one of the poster boys who always held his grounds, even during times of turbulence. Still, why would anyone in his right mindset deny forming a Big Three with LeBron James and Dwyane Wade? 
Carmelo Anthony and his million-dollar revelation
ADVERTISEMENT
Article continues below this ad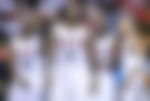 LeBron James (Cavaliers), Carmelo Anthony (Nuggets), Dwyane Wade (Heat), and Chris Bosh (Raptors) joined the league together in the very impressive NBA 2003 Draft pool. They were extremely talented, and that helped them land on the 2008 Olympics' USA National Team.
Their Gold Medal success that year opened doors to a conversation where Melo would have joined LeBron and Wade to form a Big Three. As it turned out, that dreamy combination never really took shape.
In an interview with ESPN, Melo reflected on that decision and detailed what it would be like if his decision was any different. He expressed in a low voice, "Honestly, I don't know man. It could have been New York. I didn't see any other place, of us going. It could have been Miami, we all could've went down to Miami. I don't know if there would, it could've been a way where all four of us could have got to Miami. If we did it, we had to take pay cuts, but I think at that point in time, those guys took pay cuts anyway. It was just like, what the numbers look like, could we really do this or not? So, I don't know where we would end up at."
When LeBron James first showed interest in teaming up with Melo
As per a report, LeBron James, in a conference call back in 2006, had told both Dwyane Wade and Melo about his intentions to form the Big Three. But, where LeBron and Bosh signed 4-year contract extensions (with a player option) with their respective sides in 2006, Melo took a 5-year deal instead. 
ADVERTISEMENT
Article continues below this ad
That closed the window for him to join the Heat in 2010 when Pat Riley was doing everything to form a dream team. That short-sightedness and also the love for his franchise in Denver cost Melo later in his career.
After the NBA lockout, he moved to the Knicks but never really tasted the success that his counterparts did. In fact, he never even reached the NBA Finals where his Team USA teammates won back-to-back titles.
Do you think the Miami Heat would've enjoyed more success with Melo on their team?
ADVERTISEMENT
Article continues below this ad
Read Also – "Did Not Empathize": Heat Legend Chris Bosh on Big 3 Parade with LeBron James and Dwyane Wade