Charles Barkley and Shaquille O'Neal Keep LeBron James Entertained After Spreading Christmas Joy Turns to Hilarious Pranks
Published 12/21/2022, 9:10 AM EST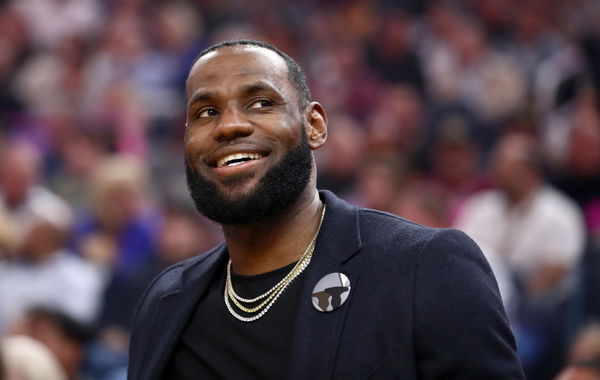 It's the season to be jolly! Well, 'Inside the NBA' studio is surely making the most out of this jolly season as the entire studio was decked up with Christmas decorations. Secondly, known the leave fans in a fit of laughter, Inside the NBA hosts have amped up their game this Christmas season. Earlier today, the Inside crew welcomed singer Jacquees on one of the segments of the show. Jacquees sang a melodious rendition of the song "Let it snow". While the hosts enjoyed this performance, Charles Barkley was pranked. Not only did they execute the prank successfully, but also received a reaction from LeBron James.
While Jacquees performed, snow was sprinkled subtly all over the studio. Ernie Johnson, Shaquille O'Neal, Kenny Smith, and Charles Barkley were immersed in the performance. The studio was quiet and calm. This mood is a rarity on Inside the NBA. With that said, this relaxed state didn't last for long.
Inside the NBA leaves LeBron James in shambles
ADVERTISEMENT
Article continues below this ad
When Jacquees reached the chorus of the song, a huge portion of snow-like material was dumped on Chuck. The other three hosts were in shambles after this. Jacquees had to walk away from the mic to laugh. Chuck was a good sport and then said, "I hate you all". This earned a reaction from LeBron James.
While the video of the prank on Charles Barkley went viral, LeBron James couldn't stop himself from reacting to the video. He took to Instagram and filled his comment with the laughing emoji. The four-time champion's reaction was shown on the show later on.
Looking at James' reaction, Ernie Johnson said, "LeBron liked it a little, he liked it a lot". However, the Inside Crew was nowhere close to being done with their notorious shenanigans. Following the discussion over James' reaction, another chunk of snow was dumped on Chuck.
ADVERTISEMENT
Article continues below this ad
Once again, the 15-time All-Star was caught off guard. The studio broke into a chaotic round of laughter. NBA on TNT posted this clip on Twitter. In the caption, they tagged LeBron James. The tweet read, "@KingJames, we got him again". King James replied to this tag immediately. He retweeted the post and said, "Man I love y'all!" James' added some laughing and clapping emojis as well.
ADVERTISEMENT
Article continues below this ad
Watch This Story – 5 times Charles Barkley and Shaquille O'Neal had heated fights on Inside The NBA
What do you think about this prank? Let us know in the comments below.
Edited By: Pritam Priyedarshi