Charles Barkley Goes Berserk in intense fight with Warriors Fans
Published 05/19/2022, 12:30 PM EDT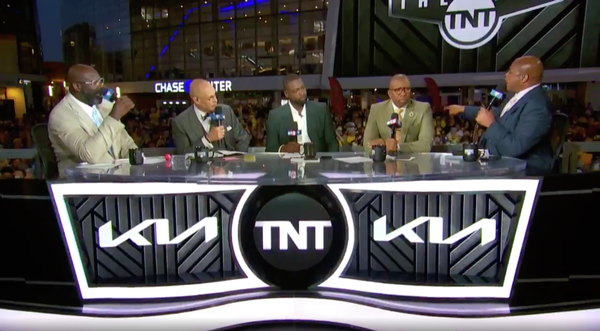 Inside the NBA has delivered again. For the game 1 of the Conference finals between the Golden State Warriors and Dallas Mavericks, the studio was set up with the backdrop of live fans watching the game there along with the hosts. Shaquille O'Neal, Ernie Johnson, Kenny Smith, and Charles Barkley welcome Dwyane Wade for the coverage.
Things became hilarious as always on the show as Shaq and Chuck got into a back and forth. Chuck picked up why the Dallas Mavericks are going to win in game 1. He highlighted the specialties of Luka Doncic and put up his argument why the Warriors would find it difficult to put up with the Mavs' superstar. This led to the Warriors fans chanting against Charles Barkley all throughout the show, and at one point, Chuck answered back.
ADVERTISEMENT
Article continues below this ad
The chants against Charles Barkley grew as he turned around and said, "Y'all leave me alone or I'll come to your house and f*** your mama." The Warriors fans took this well and in the best way possible, as they all broke into laughter. 
Everyone knows how Chuck is as a person. Moreover, people love him for his candidness and the courage to speak whatever, whenever in the most hilarious manner. One person who was enjoying rather loving the banter against Charles Barkley was obviously, unsurprisingly, Shaquille O'Neal.
ADVERTISEMENT
Article continues below this ad
Shaquille O'Neal instigates the Warriors crowd against Charles Barkley
Shaq and Chuck always have fun messing with each other. They never leave a chance to pull each other's legs. This was a great moment for Shaq to have some fun. While all the Warrior crowd was against Chuck because he picked the Mavs to win. Chuck had the prediction that Luka would be too good to handle for the Warriors and the Dallas Mavericks would edge them out. However, this was not the case as Stephen Curry and co. put up a brilliant performance in a blowout victory in game 1. This gave the chance to the Warrior fans to chant against Chuck when he was proved wrong.
ADVERTISEMENT
Article continues below this ad
WATCH THIS STORY: 5 times Shaquille O'Neal and Charles Barkley went into a heated argument on Inside the NBA.
The Warriors fans chanted, "Charles you s*ck!" To which Chuck hilariously replied, "You are right! And y'all suck too!" Shaq was enjoying this way too much as he encouraged the crowd and motivated them to keep the chants going. We all love the friendship of Shaq and Chuck, and they never fail to make everyone laugh.
Edited By: Ajinkya Aswale