Charles Barkley Labels James Harden Ahead of Michael Jordan & Kobe Bryant in Offensive Play
Published 03/25/2021, 12:11 AM EDT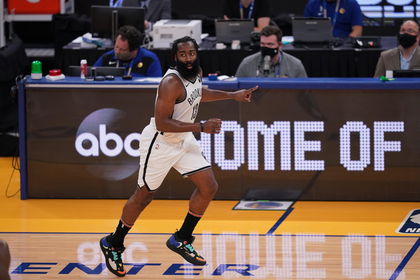 ---
---
Brooklyn Nets have enjoyed a phenomenal run in the NBA this season. After a slow start, the Nets have won 16 of the last 18 regular-season games. And the biggest contributor in this time frame has been their new signing, James Harden.
Brooklyn entered the season with a stacked roster, complimented by quality young players. But they took a huge gamble and formed a big three consisting of Kevin Durant, Kyrie Irving, and James Harden.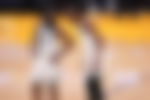 Harden has fit into the team seamlessly so far. The 2018 MVP has flourished as the primary ball-handler and distributor of the ball. In fact, he is leading the league in assists and is averaging 25.4 points, 11.5 assists, and 8.7 rebounds per game.
Apart from his playmaking skills, his scoring has also been impressive. Given his ability to take over games when others fall flat, this might be the best version of 'the Beard' we are seeing.
Former MVP Charles Barkley lauds James Harden
NBA analyst and former MVP Charles Barkley is certainly not the biggest fan of James Harden. From criticizing for his excessive iso-ball approach in Houston to questioning his playoff performances, Barkley has panned Harden on several occasions.
But his recent form in the Brooklyn Nets has had a massive positive impact on the 'Chuckster.' In an appearance at the Greeny show, the Hall of Famer spoke about Harden and why he might be the best player in the league right now.
"This guy might be the best basketball player in the world. I mean he might be the best player in the world. I've always thought he was the best offensive player."
He added, "Right now, no disrespect to LeBron or Giannis or anybody, James Harden might be the best basketball player in the world period."
ADVERTISEMENT
Article continues below this ad
Barkley later explained why James Harden might be the most talented player offensively, even surpassing Michael Jordan and Kobe Bryant.
Chuck said, "Like I say, he is the most awesome offensive player I've ever seen. Michael and Kobe were better players from the guard standpoint but as far as offensively, they couldn't shoot threes like him, they were not as great as dribbling the basketball or going to the basket getting fouled.
"I mean this guy he every time he goes to the past he gonna hit somebody and get two free throws but we gotta give that guy credit man. He is an offensive machine, plain and simple."
While the Hall of Famer certainly makes some strong points, 'the Beard' still hasn't proven himself in the post-season. Harden dominating the regular season is nothing new, but if he can pull off performances like these in the post-season, he might make a strong case for being considered as an offensive genius. Is James Harden the best offensive player in NBA history?