'Cheat Code': Anthony Davis Joins Other Greats to Put Respect on the name of Stephen Curry
Published 03/07/2021, 11:07 PM EST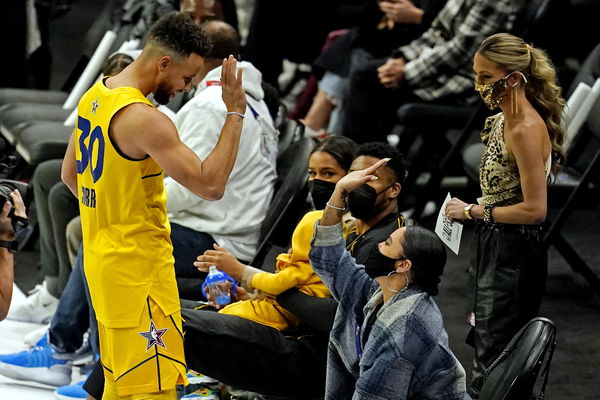 ---
---
Seth Curry has his Twitter bio saying, "Living life one day at a time". Good for Seth, but his All-Star brother, Stephen Curry, took the life out of Team Durant, "one three-pointer at a time". Such was the crazy level of play shown by the Warriors' point guard during the NBA ASG 2021 in Atlanta.
ADVERTISEMENT
Article continues below this ad
The commercials aired between the game showed Chris Paul promoting State Farm, and Draymond Green endorsing Subway. But every time the game came back on the screen, it was Chef Curry cooking his three-point meal and dishing out delicious scoring to give Team LeBron a cutting-edge gain.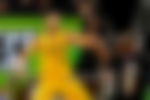 Twitter went Berzerk with Anthony Davis and others rooting for Stephen Curry
ADVERTISEMENT
Article continues below this ad
Steph Curry looked like he was playing in the prime of his career, with a tenacity that of someone playing in his first NBA ASG. He used the three-point contest earlier tonight as his practice for the main event at the State Farm Arena.
His flurry of scoring made the 2500 virtual fans appear and roar like 25000 fans in a stadium. Such was the impact and liveliness that he brought with him, while Kevin Durant must be sitting somewhere pondering why he did not select the GSW leader in his pick.
While KD might not tweet something like that, others did not stop themselves from showing their absolute disbelief over Curry's grit. Take a look at how Anthony Davis, Seth Curry, Draymond Green, and others reacted to his memorable game –
Hahahaha Steph and Dame cut it out man

— Draymond Green (@Money23Green) March 8, 2021
Steph really just starting his prime is actually kinda crazy

— Marcus Thompson (@ThompsonScribe) March 8, 2021
Read Also – WATCH: Steph Curry Converts a No-Look Three as Damian Lillard Watches in Disbelief
ADVERTISEMENT
Article continues below this ad
The chef from the Bay Area making a case for himself
Steph scored 12 points in the first quarter and added 10 more in the following quarter. This made him equal the combined halftime score from Team Durant's starters in center Zion Williamson (8 points) and guard Bradley Beal (14 points). While James Harden added triple threes by the first half, Curry already had six (75% accuracy) to his name. 
Team LeBron won both quarters even as they trailed earlier in Q2. However, the way they made a comeback after the mid-break in Q2, took them towards a cumulative 20-point lead by halftime. 
ADVERTISEMENT
Article continues below this ad
For Team LeBron, things looked sorted because Giannis Antetokounmpo ruled from the paint while Curry and Damian Lillard charged guns from long range. The match looked rather one-sided as the fans waited for a turnaround in the second leg of the game. Stay tuned for more interesting updates on ASG 2021.