Chicago Bulls Star Zach Lavine Opens up on Drawing Inspiration From Michael Jordan
Published 01/04/2021, 8:41 AM EST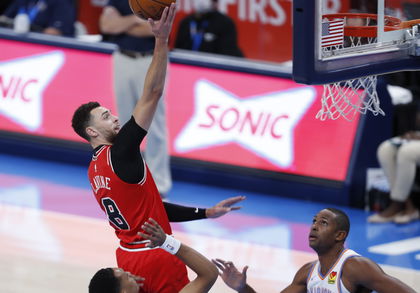 ---
---
In a night which was dominated by Steph Curry's 62 point and Paul George's 39 point performances, one player went under the radar. Zach LaVine starred with a staggering 39 points in Chicago Bulls' surprising victory over a Luka Doncic less Dallas Mavericks side.
ADVERTISEMENT
Article continues below this ad
LaVine put up a MJ-esque performance, especially in the first half of the game where he scored 39 points.
In the post game press conference, when Brandon Johnson asked how he felt about being in Michael Jordan territory, Lavine said, "I don't know about that one, If you're mentioned with him, it means you're doing something right."
ADVERTISEMENT
Article continues below this ad
Expressing his love for the Chicago Bulls legend, LaVine said, "I'm a big, big Jordan fan. One of the main reasons I started watching basketball as a kid, just like so many others. I think I knew the stats and the way he played and how he got it done."
While LaVine has continued to perform, his supporting cast has fallen flat. Against the Mavs, however, Coby White and Otto Porter Jr. were impressive as they added 23 points and 15 points, respectively. The Bulls will certainly hope to build upon this crucial victory.
Bulls' star Zach LaVine determined to win this season
Zach LaVine has transformed himself into a certified star from the 2018 to 19 season. Since then, he has averaged over 20 points, 4 assists and 4 rebounds per game.
The 25-year-old is more motivated than ever to lead the Bulls to their lost stardom. In his post game presser, LaVine said, "My motivation this year is winning.
"Trying to help my team win. Whatever it has to be, if it's rebounding, defense, assists, steals, you know point. Just trying to help my team win. We haven't made the playoffs. I want to lead with that opportunity as well.
ADVERTISEMENT
Article continues below this ad
"Whatever I can do to win and try to help. If I go out there and give it my all and check all my boxes, I can be OK with that at the end of the day."
The Chicago Bulls have a bunch of very talented young stars like Zach LaVine, Coby White and Lauri Markkanen. While LaVine has certainly developed into a star, the same isn't true for the rest of the side.
If their other young stars can perform at a high level consistently, the Bulls can become a competitive team in a couple of years with LaVine leading the pack.
ADVERTISEMENT
Article continues below this ad