Chris Bosh Explains How Lakers' LeBron James Will Handle His Injury
Published 05/19/2021, 1:00 AM EDT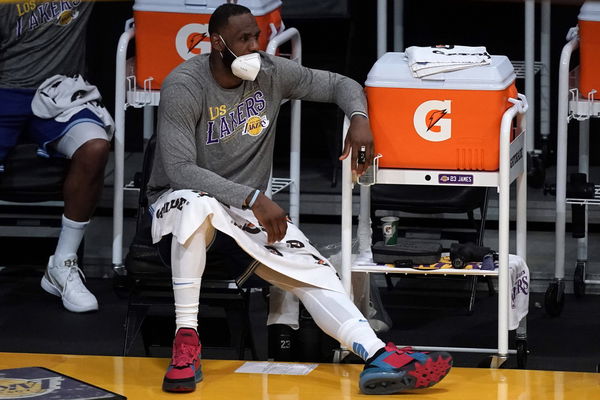 ---
---
LeBron James, prior to this postseason, had been one of the most fortunate players in the league, always dodging injuries. However, in the present day, while the Lakers' forward's mind is as young and demanding as any rookie's, his 36-YO ankle is sore and vulnerable. As a result, there are significant doubts over the level of his upcoming performances.
ADVERTISEMENT
Article continues below this ad
The four-time NBA Champion has missed 26 of the last 30 games that forced the franchise into a play-in situation. Now, there is no guarantee that the star will be anywhere near his 100% when he shows up against the Warriors. So what can one expect of the bruised King?
Will LeBron James change his tactical strategy?
ADVERTISEMENT
Article continues below this ad
In a recent interview, LeBron James' former teammate, Chris Bosh, gave a warning signal to the Lakers front office. The 37-YO retired champion cautiously expressed, "Look for him to change his game. You definitely don't want your best player to have a nagging injury. They tried to be really careful in the last couple of weeks, really the last month of the season. But for him to have a nagging situation where he's re-aggravated it again, that's definitely something to be concerned about."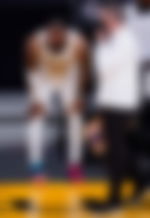 The 2x NBA Champion with the Miami Heat holds Game 7 experience alongside LeBron, so he knows how Bron can quickly shift gears when presented with a high-pressure do-or-die situation. CB4 then revealed how the L-Train is most likely to change his role for the team. 
He confidently added, "Look for him to be more of a facilitator, look for him to get his teammates involved a lot more, and look for him to just kinda pick and choose his spots where he can be aggressive. But he want LeBron James, out of everyone having that problem because he does a tremendous job going around the clock with his treatment schedule. So, we'll see how it goes. But especially in this one off situation, you got to be a little concerned."
Read also – LeBron James Picks Stephen Curry as the Deserving Choice for 2021 MVP Throne
How will the Lakers' offense run?
ADVERTISEMENT
Article continues below this ad
Since 1999-2000, this is the first season where the Lakers have finished as the best defensive side in the league. So defense is not their concern, but the offense is, especially when playing against the Warriors' Steph Curry. 
Now, Bron does not necessarily have to play above the rim to impact the game. He can be more methodical in his approach and try to spread the court by taking more shots from downtown. And while he does that, it will be on Dennis Schroder and Anthony Davis to keep the scoreboard ticking. Also, one can expect Montrezl Harrell to put on his playoff cape and do just as good as he did at the beginning of the season. 
ADVERTISEMENT
Article continues below this ad
All this suggests that the Lakers are still a very dangerous side and LeBron's toning down on the offense might do little harm to them.