Chris Bosh Reveals How He Reinvented His Game to Fit Into Heat Big 3 With LeBron James and Dwyane Wade
Published 06/02/2021, 11:50 PM EDT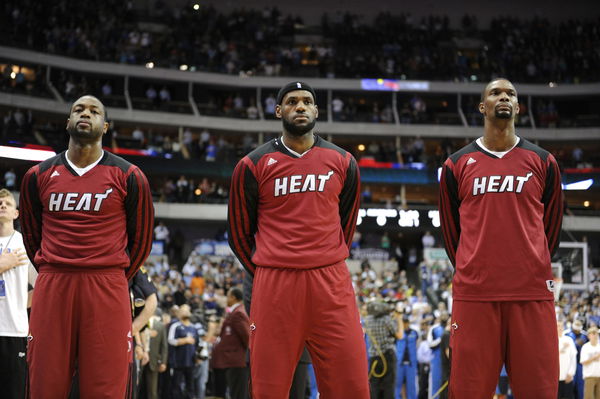 ---
---
Southern Florida has always been a popular free agency destination for NBA athletes. And after 2006, when Dwyane Wade and Shaquille O'Neal brought the ultimate glory to the city of Miami, it became an even more inviting zone. So much so that it forced Cavaliers' LeBron James to make 'The Decision' and join the party at the beach.
ADVERTISEMENT
Article continues below this ad
But King James had to ensure that his arrival in Miami overpowered all the previous victories of the franchise. To make that happen, the Akron Hammer got Chris Bosh to join the bandwagon and formed the Big Three.
That move made Pat Riley and Dwyane Wade happy, but what about Bosh who was about to become the third option?
ADVERTISEMENT
Article continues below this ad
Chris Bosh revealed how he dealt with change when playing alongside LeBron James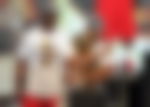 Prior to joining the Heat, CB4 had played seven complete seasons with the Raptors. He was already a multiple-time NBA All-Star who had averaged 22.8 points, 9.9 rebs, 2.5 assists, and 1.1 blocks in the last five seasons before shaking hands with Bron.
But he also knew that he would not be able to continue putting those numbers with LeBron James and Dwyane Wade as the first and second-best in the trio. So how did he cope with the transition?
In a recent interview, the 37-YO retired player briefly explained it and said, "I didn't get used to it until we probably won the first championship. It was one of those things where I constantly had to reinvent myself. I don't think I ever all the way got used to it because I had to morph…"
Chris took his time, and in hindsight, one can compare the games in 2010-11 from 2011-12 to see how even as he averaged less, he played with a greater deal of confidence.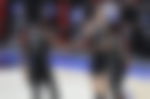 When CB4 saved the Miami Heat in the 2013 NBA Finals
About his role with the Heat, the 11x All-Star further added, "We know Bron or D might be out, and I have to up my scoring. Some nights I would just set screens and be in the big guy role down the paint and play defense. Someday it just be, we need to guard the biggest guy and guard fifty screen and rolls. That was one of the fascinating things I found from being with that team. But, I'd say just getting used to being uncomfortable took… a season and a half to fit into my rolling in. Even after that I had to get used to things changing."
But he did not tell how he won them important games by playing whatever role Erik Spoelstra gave him. 
In the 2013 NBA Finals, the Heat were playing against Tim Duncan's Spurs, and they were trailing 2-3. With 28.2 seconds remaining in the game, the Spurs were five points ahead of the Heat, and it seemed LeBron James might have to wait to lift his career's second title.
ADVERTISEMENT
Article continues below this ad
However, in came Chris Bosh and his crazy rebounding skills. Everyone remembers the game mostly for Ray Allen's game-winning shot, but they forget to notice how CB4's clutch offensive rebound marked the twist. 
Yes, Bosh did not stop just there. He combined that with blocks on Tony Parker and Danny Green to help the Heat win the game. Does this make you an instant CB4 fan, if you already weren't? Help us know in the comments.
ADVERTISEMENT
Article continues below this ad
Watch This Story – Movies and TV Shows Starring LeBron James